bur17_ponentes-concepcion-naval-imagen2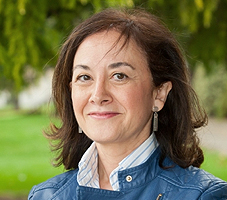 bur17_ponentes-concepcion-naval-titulo
CLAUSURA


Concepción Naval
UNIVERSIDAD DE NAVARRA
bur17_ponentes-concepcion-naval-texto

Concepción Naval holds a PhD in Education from the School of Humanities and Social Sciences, University of Navarra (1989). She was awarded a scholarship in the pre-doctoral program of the Spanish Ministry of Education, and a postdoctoral fellowship by the Fulbright Commission.
She has been a Professor of Educational Theory at the University of Navarra since 1993. From 1996 to 2001, she directed the Department of Education, and held the position of Vice President of the University of Navarra from 2001 to 2012. Dean of the School of Education and Psychology since December 2013.
Prior to that, she was a Visiting Scholar at Harvard University, the University of Notre Dame, USA, the International Office of Education of UNESCO in Geneva, St. Edmund's College of Cambridge University and Boston University. She has also been a Visiting Professor at the Universidad Panamericana (Mexico City and Guadalajara).
In 2003 she was a Fellow of the Salzburg Seminar (Austria), and during 2012-13 Visiting Fellow and Oliver Smithies Lecturer at Balliol College, University of Oxford, and Academic Visitor at Columbia University, NY.
She is the editor of the journal Estudios sobre Educación and is on the Editorial Board of the Journal of Social Science Education; Journal Citizenship, Teaching and Learning, amongst others.
Author of various books, including Educación Retórica y Poética (1992), Educar ciudadanos (2000, 2nd ed.), Gerontología educativa (2001). She is co-author of Filosofía de la educación (2004, 3rd ed.), La educación cívica hoy (2001), Participar en la sociedad civil (2002), Filosofia dell'educazione (2003), Impacto de las ICT en las relaciones sociales de los jóvenes navarros (2003), Educación y ciudadanía en una sociedad democrática (2006), Ilusiones y miedos de los niños ante el futuro (2007). Author of Teoría de la educación (2008), Educación de la sociabilidad (2009). And co-author of Civic Pedagogies in Higher Education: Teaching for Democracy in Europe, Canada and the USA (2014), and Citizenship, Democracy and Higher Education in Europe, Canada and the USA (2014).