Estructura y metodología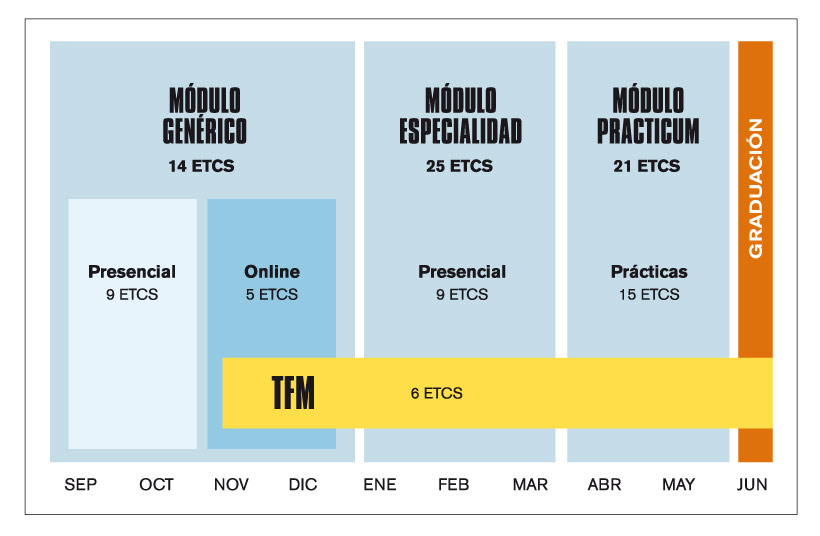 We combine complementary learning methods and strategies to achieve the best results through:
On-campus theory sessions: dynamic, interactive lectures that students prepare for in advance using materials distributed for each session.

On-campus practical classes: case studies, seminars, role-playing.

Special sessions with invited professionals in a talk-workshop format.

Specialized workshops of short duration, led by professionals, on specific topics from the curriculum or on the use of particular techniques or strategies.

Distance learning (programming, diagnostic reports, curriculum adaptations, etc.) individually and in small groups.

Practicum: an internship period (approximately two months) at an institute or school, under the mentorship of a teacher at the school (15 ECTS credits).

A Master's Thesis Project including public oral defense of the project (6 ECTS credits).

Students will each have a MENTOR at the University (apart from the Practicum mentor) who will accompany them throughout the master's degree program to guide their learning and focus their future entr.
The activities planned as part of the Master's Degree in Secondary School Teaching (MUP) include Practical Training Seminars for Professionals. These seminars are aimed at professionals and graduates interested in meeting the needs of people who require an educational and psychological intervention.

These seminars have an eminently practical approach and seek to help participants acquire, refresh and create the strategies and principles they need in their professional development.

The speakers that lead the seminars are highly qualified professionals in these fields and represent public and private organizations in Spain and abroad.