Professional prospects
The Master has more than 400 graduates. Many of them are working in positions of responsibility in the pharmaceutical industry. The employment rate reveals that 100% of graduates find work in the first six months after the end of the Program.
The graduate is trained to integrate into multidisciplinary research groups within the complex field of medicine, both in R & D departments of the pharmaceutical industry and in research centers, regulatory bodies (agencies), universities, etc. The main areas of placement are: Preclinical research, Clinical research, Quality, Research Management and / or Regulatory affairs.
2016-2017 DATA
75% employment rate 3 months after completing the program.
Employing companies:
| | |
| --- | --- |
| CINFA (4) | Praxis (1) |
| CIMA (4) | Biobide (1) |
| University of Navarra (3) | ZIP Solutions (1) |
| Idifarma (2) | University of Aberdeen (1) |
| TAKEDA (1) | Rovi (1) |
| GSK (1) | University of Navarra Clinic (1) |
Areas of placement:


Location of companies: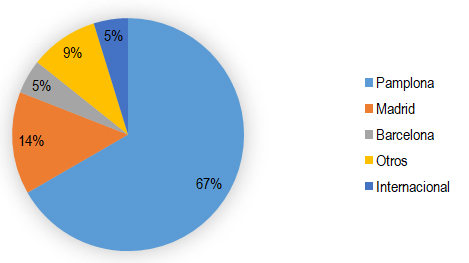 Estudio acerca de la inserción laboral de los colectivos de grados y máster de la Universidad de Navarra

La presente investigación ha sido realizada por el Instituto de Investigaciones de Mercado y Marketing Estratégico Ikerfel por encargo de la Universidad de Navarra.

El principal objetivo de la investigación consiste en determinar la inserción laboral y la caracterización de dicha inserción laboral de los másteres de la Universidad de Navarra en los años 2014, 2015 y 2016.

Este objetivo se ha abordado desde una perspectiva metodológica cuantitativa, concretamente se han realizado 570 entrevistas online y entrevistas telefónicas.

La fase de campo se ha desarrollado del 15 de marzo al 29 de mayo de 2017.
· Informe de inserción laboral egresados 2019 (.pdf)