El documental del mes
El Museo de Ciencias Universidad de Navarra quiere acercar la ciencia a la ciudadanía a través de la proyección de los documentales finalistas y ganadores de #LabMeCrazy! Science Film Festival.
Hora: 19:00h.
Lugar: Salón de Actos. Edificio de Ciencias (Hexágono).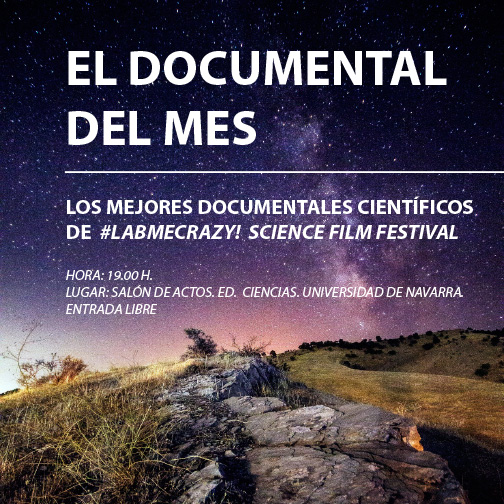 FECHAS:
29 de octubre - My Love Affair with the Brain: The Life and Science of Dr. Marian Diamond.
Estados Unidos, 57 min, 2017. Luna Productions.
V.O. Subtitulada
26 de noviembre, 700 Sharks
Francia, 92 min, 2018. Le Cinquième Rêve.
V.O. Subtitulada
21 de enero, The Nature of Things: "A Day in the Life of Earth"
Reino Unido, 44 min, 2018. YAP Films y Screen Glue.
V.O. Subtitulada
18 de febrero, TheLaws of the Lizard
Estados Unidos, 51 min, 2017. Day's Edge Productions
V.O.
24 de marzo, The Sun - Inferno in the Sky
Austria, 50 min, 2018. Terra Mater Factual Studios.
V.O. Subtitulada
28 de abril, Migrating Birds - Scout of Distant Worlds
Alemania, 90 min, 2016. Colourfield
V.O. Subtitulada
26 de mayo, Salvar al bucardo
España, 52 min, 2019. Universidad de Zaragoza.
Castellano
Más información: museociencias@unav.es - Tlf: 948 42 56 46