International Clinical Psychology Course University of the Andes- Santiago de Chile
Cost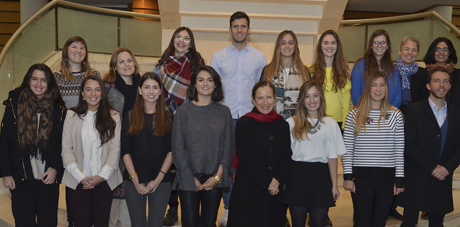 International Clinical Psychology Course: $1,500 USD
It includes:
Program and materials;

Clinical internship contract at the San Bernardo Clinical Hospital;

Use of University sports and academic facilities (e.g. Library, Gym, etc.)

Wi-fi

Induction day and cultural activities;

Private transport to the clinical centers: San Bernardo Clinical Centre and El Salto;

Student Coordinator;

Organized activities and cultural walks;

End of program activity and program closure;

Assistance with transport to and from the airport on arrival and departure.
Transporte

El programa cuenta con buses que transportarán a los alumnos desde un punto de encuentro próximo a la residencia Livinn Santiago, cercano a metro Moneda, y transportará a los alumnos hacia la universidad y los campos clínicos. Luego los trasladará de vuelta al mismo punto de encuentro al final de la jornada.

*En caso que la mayoría de los alumnos se encuentre en otros alojamientos se buscará otro punto céntrico para la totalidad de los alumnos del programa.
Housing/Accommodation

Housing: University of the Andes does not offer accommodation, but it can make some recommendations:

Student accommodation with families: Includes 3 meals a day, laundry service, cleaning and Wi-fi. The approximate price for 5 weeks is: approx. US $1,200

Hotel accommodation (approximate price)

Chile Hostales.com: $2,300 USD, 1 Bedroom, Single Bed, Private Bathroom.

Hotel Diego de Velázquez (http://www.hoteldiegodevelazquez.com/): $3,000 USD . 1 bedroom, single bed, private bathroom and breakfast

Apart Hotel Cambiaso: (https://www.aparthotelcambiaso.cl/): approximate price: $2,800 USD Includes kitchen, bedroom and individual private bathroom.
Visas

If a student has a European passport, as this is a 5 week program (no more than 2 months), it is not necessary to apply for a special student visa. Consequently, you can enter the country on a tourist visa.

If a student's home country does not have a tourism agreement with Chile, he/she will need a letter of invitation that he/she must request from the University of the Andes, leaving sufficient time to process the visa.
Return policy

All academic costs paid by the student so far will be returned if the program is cancelled within these deadlines and conditions:

If the student cancels their place on the program up to two weeks beforehand because a visa application has been rejected, all money paid to date for academic management will be returned.

If the student cancels their place on the program more than four weeks before it starts, all money paid to date for academic management will be returned.

If the student cancels their place on the program within four weeks of it starting, only 50% of money paid to date for academic management will be returned.

If the student cancels their place on the program once it has started, no money will be returned.

*The University of the Andes will not be responsible for payment or return of Housing (accommodation)
Contact: School of Education and Psychology
University of Navarra

Edificio Biblioteca Ismael Sánchez Bella  31009 Pamplona España +34 948 42 56 00 Fax: +34 948 42 56 19 internacionaleyp@unav.es