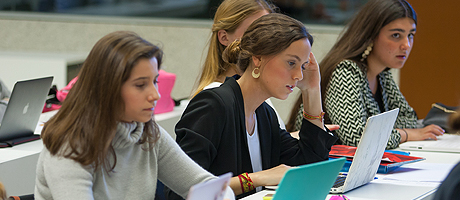 The University of Navarra is based in Pamplona, Spain, and consists of four campuses around the country. We are proud of our academic integrity, international focus and the professional development of our students. The University is listed as the top private university in Spain according to a survey carried out by the Universidad Complutense de Madrid, taking into account all private and public universities in relation to both teaching and research. Each semester, the high percentage of international students who choose to come to the north of Spain to enjoy a fulfilling experience on our university campus complements and enriches the student body.
The School of Law at the University of Navarra colaborates with universities all over the world, offers programs in English taught by both local and visiting professors from very prestigious universities, the International Moot Courts, international internships and employment opportunitie and research stays om US, China and United Kingdom.
If your university has an exchange agreement with the School of Law, you could come to Navarra to spend a semester o a full year with us and take courses in any of our undergraduate programs in Law and International Relations.
Contact: Facultad de Derecho
Universidad de Navarra
Campus Universitario 31009 Pamplona España exchange_iirr@unav.es