Mercedes Medina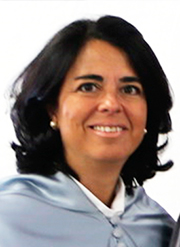 Profesora Titular de:
Departamento de Empresa Informativa
Despacho 770
Edificio Biblioteca
Universidad de Navarra
31009 Pamplona (NA)

Tf: (34) 948 425 600 Ext. 80 2352
Correo-e: mmedina@unav.es
Doctora en Ciencias de la Información por la Universidad de Navarra (1995) y Master en Arts in Communication por la University of Westminster en Londres (1994).
Desde 2016, dirige la revista Communication & Society.
Ha sido directora del Máster en Gestión de Empresas de Comunicación (MGEC) de 2006 a 2012, directora del Departamento de Empresa Informativa de 2001 a 2006 y subdirectora desde 1999. Además de su docencia en la Universidad de Navarra, ha impartido docencia en varios cursos de post-grado en universidades portuguesas, y ha sido profesora visitante de la Universidad de la Sabana (Colombia), Universidad de Los Andes (Chile), de la Universidad Panamericana (México) y University of North Carolina en Chappel Hill (EE.UU.).
Ha publicado los siguientes libros: Calidad y contenidos audiovisuales, Estructura y Gestión de Empresas Audiovisuales, European Television Production: Pluralism and Concentration, Valoración publicitaria de los programas de televisión y, con otros autores: Current and emerging issues in the audiovisual industry, La audiencia en la era digital, Estrategias de marketing de las empresas de televisión en España,Globalization and Pluralism: reshaping public TV in Europe , Creating, producing and selling TV shows. The case of the most popular dramedies in Spain, Series de televisión. El caso de Médico de Familia, Cuéntame cómo pasó y Los Serrano.
Entre los artículos en revistas científicas en los últimos años destacan: "Market Structure and Innovation Policies in Spain", "Content as products in media markets", "The impact of DTT in the willingness to pay for TV in Spain", "Media Market Research on Immigrant Audiences: Lessons Learned From a Critical Analysis of the Spanish Media Survey", "Children's programming before and after DTT implementation in Spain", "The transformation of audiovisual media companies: The cases of Mediaset (Italy) and Antena 3 (Spain)".
Actualmente dirige el proyecto de investigación financiado por el Ministerio de Ciencia, Innovación y Universidades "De la arquitectura de la escucha a la huella social: buenas prácticas en la producción de contenidos" (2019-2022) (ref. RTI2018-101124-B-I00) y participa en el proyecto "Trust Label: combating Fake News in the digital era" (2019-2021), financiado por el Servicio Español para la Internacionalización de la Educación (SEPIE) y Erasmus +.
Ha sido miembro del Board de la European Media Management Association (EMMA) en el periodo 2006-2008 y recibió el Best Paper Prize de la EMMA en 2011 por la comunicación "How recession has impacted the audiovisual production in Mexico and Spain" y en 2014, el premio Dragos de Latina por el artículo "Valoración del servicio público de televisión. Comparación entre la BBC y TVE". Entre los artículos en revistas científicas en los últimos años destacan: "Online recommendation systems in the Spanish audiovisual market: comparative analysis between Atresmedia, Movistar+ and Netflix".