Esteban López-Escobar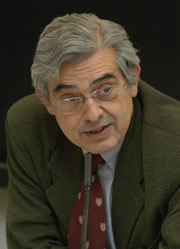 Catedrático de Opinión Pública
Edificio Bibliotecas
Campus Universitario
31080 Pamplona, Navarra, España
Tf: (34) 948 425 600 ext. 2342
Correo-e: elef@unav.es
Licenciado y Doctor en Derecho, Graduado en Periodismo y Licenciado en Ciencias de la Información, y Diplomado en Derecho comparado por la Universidad de Estrasburgo, es Catedrático en la Facultad de Comunicación de la Universidad de Navarra, en la que ha sido el primer director del Departamento de Comunicación Pública. Además es profesor en el programa de Maestría y Doctorado en Gobierno y Cultura de las Organizaciones (Instituto Empresa y Humanismo) en la Universidad de Navarra.
Fue elegido presidente de la WAPOR (World Association for Public Opinion Research) para el bienio 2005-2006. Es Fellow del Joan Shorenstein Center for the Press, Politics and Public Policy (John F. Kennedy School of Government, Harvard University), del Washington Program in Communications Policy Studies (Annenberg School of Communications), y de la Fundación Fulbright. Formó parte del Consejo del International Institute of Communications (Londres), del Consejo Estratégico del European Institute for the Media (Manchester y Düsserldorf), y del European Communications Council (Berlín). Y colaboró con el Consejo de Europa y la Federación Internacional de Editores de Diarios.
Es autor, coautor y co-editor de dieciséis libros (Análisis del 'nuevo orden' internacional de la Información, La televisión por cable en América y Europa, La responsabilidad pública del periodista, Das Wirtschaftrecht der Internationalen Telekommunikation in Spanien, Television and the public interest, E-conomics: strategies for the digital marketplace, Comunicación y Democracia, ¿Qué pensamos en Navarra sobre los Políticos?, etc.), y de varias decenas de artículos, aparecidos en el Journal of Communication, International Journal of Public Opinion Research, Journalism and Mass Communication Quarterly, European Journal of Comunication, Comunicación y Sociedad, la Revista Española de Investigaciones Sociológicas, Doxa, Sphera Publica, etc.
Ha participado en treinta proyectos de investigación, relacionados –entre otros asuntos– con la teoría de la agenda-setting, la espiral del silencio, las imágenes públicas de los candidatos y líderes políticos, y la percepción social de los periodistas y de los políticos. Ha sido el investigador principal de quince de esos proyectos.
Miembro fundador de la revista Gaceta Universitaria. Fue director de Nuestro Tiempo (1974-1979), y ha publicado colaboraciones en diversos diarios (El Mundo, ABC, El Periódico de Catalunya, Diario de Navarra, etc.).
Ha dado cursos, conferencias, y ha desarrollado ponencias en congresos en cuarenta países.
(Ver currículo completo del prof. López-Escobar en ventana independiente)