Elena Gutiérrez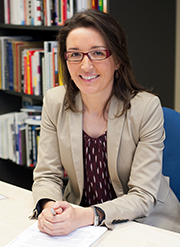 Profesora de:
Gestión de Proyectos de Comunicación
Comunicación Empresarial y Financiera
Edificio Biblioteca H.
Campus Universitario
31080 Pamplona, Navarra, España
Tf: (34) 948 425 600 ext. 802295
Correo-e: egutierrez@unav.es
Licenciada en Periodismo (1999) y Doctora en Comunicación (2004) por la Universidad de Navarra. Obtuvo el Premio Extraordinario de Doctorado de la Facultad de Comunicación con la tesis Comunicación financiera. Análisis doctrinal y aplicado.
Su investigación académica y docencia se centra en la gestión estratégica de la comunicación y el buen gobierno empresarial, principios de excelencia profesional y capacidades profesionales en la dirección comunicativa.
Coordinadora y autora del libro El futuro de la comunicación (LID, 2014). Co-editora y autora de la obra "Tendencias emergentes en la comunicación de instituciones" (UOC, 2013). Autora del libro "Comunicación institucional financiera" (Eunsa, 2006).
Directora de un proyecto I+D financiado por el Ministerio de Economía e Innovación (2016-2018) titulado "Gestión de la relación con los grupos de interés en procesos de innovación colaborativa en la empresa". Participa en el proyecto internacional dirigido por la profesora Anne Gregory titulado "Global capabilities framework", así como su participación otros proyectos de investigación pasados.
Ha sido directora del Máster en Comunicación Política y Corporativa de la Universidad de Navarra, del que fuera subdirectora (2005-2011 y 2013-2015), en el que imparte la asignatura Gestión de Proyectos-Trabajo Fin de Máster.
Visiting researcher de Business School de la Universidad de Huddersfield, Reino Unido, estancia financiada por el Ministerio de Educación del Gobierno de España (2016).
Visiting research fellow en el Stirling Research Media Institute de la Universidad de Stirling (Reino Unido, 2005). Visiting doctoral research en la School of Media and Public Affairs de la Universidad George Washington (Estados Unidos, 2002).
Miembro del Comité Científico del congreso bienal 'Building Universities' Reputation', organizado por la Universidad de Navarra. Miembro del comité editorial de la colección de libros 'Dircom' de la editorial UOC (Barcelona). Miembro del comité editorial de la publicación "La comunicación empresarial y los intangibles en España y Latinoamérica" (editorial Pearson).
Ha sido profesora visitante de la Universidad Internacional de Cataluña, Universidad Católica de Valencia, la Universidad Mayor (Chile), Universidad de La Sabana (Colombia), Universidad Pontificia Bolivariana (Colombia) y la Universidad del Istmo (Guatemala). Es socio docente de la Asociación de Directivos de Comunicación -DIRCOM-.