Efrén Cuevas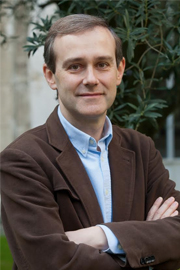 Profesor de
Teoría de la Comunicación Audiovisual
Documental
Trabajo de Fin de Grado
Edificio Bibliotecas Despacho 2580
Campus Universitario
31080 Pamplona, Navarra, España
Tf: (34) 948 425 600 ext. 2849
Correo-e: ecuevas@unav.es

Profesor Titular. Doctor en Comunicación por la Universidad de Navarra (Premio extraordinario de doctorado). Master of Arts (Cinema Studies) por la Tisch School of Arts de New York University. Becario Fulbright. En la Universidad de Navarra ha sido Vicedecano de Ordenación Académica y Alumnos, y Director del Departamento de Cultura y Comunicación Audiovisual.
Entre sus publicaciones, cabe destacar la monografía sobre Elia Kazan (Cátedra, 2000), la coedición de los libros El hombre sin la cámara: El cine de Alan Berliner (2002) y Paisajes del yo: El cine de Ross McElwee (2008), y la edición del libro La casa abierta. El cine doméstico y sus reciclajes contemporáneos (2010). Ha publicado artículos de investigación en revistas como Biography, Studies in Documentary Film, Cahiers d'Études Romanes, Film/Historia, Comunicación y Sociedad, Trípodos, Archivos de la Filmoteca, ZER, Secuencias o Área abierta.
Su investigación se ha centrado en las siguientes áreas: narratología fílmica; realismo y representación en cine y televisión; documental autobiográfico y cine doméstico; historia, memoria y archivo en el cine documental.
Ha sido director de la revista de investigación Comunicación y Sociedad entre 1997 y 2000.
Ha sido investigador visitante en el Anthology Film Archives (2000 y 2001), en New York University (2005), en University of Toronto (2016) y en Columbia University (2016-17).