Speech pronounced by Martin Baron, Executive Editor of The Washington Post
In the United States, a new president has just taken office.
I am proud that in the United States, we have a democracy that allows citizens to decide who should be their leader. I would not have it any other way. I can think of no better system.
The voters weighed all the information they had. They made their decision. The democratic process deserves our respect.
My hope is that we will develop a normal, entirely professional relationship with the president and his administration now that a vitriolic campaign is over.
Our goal as a news organization is to be honest, honorable, accurate, fair, forthright – and always independent – in our coverage. And our goal is to fulfill the first principle that was established for The Washington Post more than eight decades ago -- "to tell the truth as nearly as the truth may be ascertained."
Still, those of us who work as journalists in the United States know that our new president presents a challenge to our profession – one more big challenge in a field that is already full of them.
We see our job as virtuous. He describes our profession as vile. The divide between us seems breathtakingly wide.
The press in the United States was granted its constitutional rights with a bold idea: Government should be held accountable to the people it serves. And the press serves an essential role in achieving that purpose.
Thomas Jefferson, a principal author of the U.S. Declaration of Independence and the third president of the United States, famously said in the year 1787: "Were it left to me to decide whether we should have a government without newspapers, or newspapers without a government, I should not hesitate a moment to prefer the latter."
It is a safe bet that our new president would not say something like that.
During his campaign, he went beyond criticizing us. He sought to delegitimize us -- even to dehumanize us.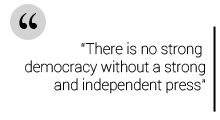 He described the press as "disgusting," "scum," the "lowest form of humanity," even "the lowest form of life." Toward the end of the campaign, he called the media "the enemies." After his election, at his New Year's party, he called us "garbage." In his contentious first post-election press conference, he called CNN "fake news."
In his visit to the CIA last week on his first full day as president, he launched a full-scale attack on the press, once again describing us as "dishonest."
Sadly, we have seen crackdowns on free expression and the press around the world in recent years – in China, in Russia, in Hungary, in Venezuela, in Turkey, in Poland, and elsewhere. And so we in the United States need to be vigilant lest we begin to lose the rights we have been fortunate to inherit -- and that have inspired citizens of other nations.
A hostile administration promises to be a huge challenge for the media in the United States. But it is only one of many challenges that we as journalists face today.
We in the media must meet every one of those challenges if we are to assure our survival – and if we are to assure a secure future for free expression. There is no strong democracy without a strong and independent press.
Our struggles, in my view, are ones that should concern all citizens of democratic countries, all people who view the free exchange of ideas and information – and the genuine pursuit of truth -- as fundamental to human dignity and a well-functioning civil society.
So I'd like to use these remarks today to talk about those challenges.
It's important to reflect on how much things have changed in our industry and our profession in less than two decades – and how fast.
High-speed broadband connections were in their infancy in the years 2000 and 2001. Broadband penetration was limited. Without it, there was no online video, no audio, no wireless communications, no mobile communications, very little sharing of photos.
So much that we take for granted today did not exist less than two decades ago.
Google had not yet issued shares to the public. It did not go public until 2004.
Social media did not exist in any meaningful way. Facebook wasn't founded until 2004, Twitter not until 2006. YouTube wasn't founded until 2005.
There was no expectation at the beginning of this century that we could get any information we wanted -- at any time and anywhere -- on a device that fits into a pocket. The iPhone wasn't introduced until only a decade ago.
In the last 12-15 years we have witnessed virtually every major technological advance that has disrupted, if not devastated, traditional media.
I haven't even mentioned more recent developments like Instagram or Snapchat or other message apps, or bots, or artificial intelligence, or 360-degree video and virtual reality.
Change will only come faster in the years ahead.
After all that has transpired, maybe our profession should celebrate its survival. But in many instances we have survived only just barely.
There is certainly no room for satisfaction or complacency.
All this change leads to one conclusion: This is a digital society, and we must adapt. Not just adapt, really, but embrace the change.
It is not just a digital society, by the way. It is a mobile society. Eighty percent of adults on earth are expected to have a smartphone by 2020 – three years from today.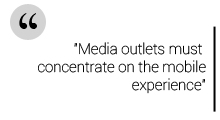 The Internet, almost overnight, has given birth to a new medium. And that is leading to a new form of journalism – just as radio led to its own form of journalism, just as television led to its own form of journalism.
And yet when the Internet came along, our industry reacted as if nothing fundamental had changed.
We saw the Internet only as a new way to distribute our work. That was not embracing change. To be honest, we did not even understand the change.
Today we should recognize, once and for all, what we're dealing with. It deserves repeating: We're dealing with an entirely new medium.
Novel, innovative forms of storytelling are being introduced: Stories that are more conversational, more accessible. As if you were talking to a friend or to a relative.
With this new medium, the voice and personality of the writer is often more evident. It feels more authentic. It is more authentic. Readers want that.
Stories can now reflect the full power of the new tools available to us – video, 360-degree video, audio, social media, interactive graphics, animations, original documents, annotations of documents, you name it.
The direction of our profession should now be obvious. Yet many journalists still resist what the future demands.
They feel the pull of the past. They think only of what they are losing. They are in mourning.
The truth is, it is futile – and, worse, counterproductive -- to resist the inevitable changes in our profession.
So what lies ahead?
First, mobile technology will dominate. That is only natural with the proliferation of smartphones. People use every spare moment to look at their phones. Some of you are probably doing that right now.
Many venture capital companies today will not fund a digital product unless it is mobile at its core. Media outlets must concentrate, above all, on the mobile experience.
Second, social media will shape how people get their news and what news they get. People do not feel a duty to seek out news and information. Nor do they see it as necessary. They expect news to find them – through social networks.
These networks are where people are talking to each other. So we in media must have an intimate understanding of them. They will be essential to getting our stories disseminated to millions of people.
They also are vital to an activity we in media need to get better at: listening. If we wish to know what most concerns people, we must listen better and listen more often. If you want to listen, go to where people are talking.

Third, it is impossible to say today what the dominant news brands will be in the future.
With the right idea and smart execution, new companies can establish themselves quickly in our field. And they have done exactly that. BuzzFeed was founded only in 2006, Huffington Post in 2005. They are now major players in the media universe.
Venture capital is funding other competitors, too, waging that newcomers can depose the media establishment.
And some of the old brands are posing competitive challenges of their own. I proudly put The Washington Post of today in that category. More than a year ago, we surpassed the New York Times in U.S. monthly unique visitors to all digital platforms. We got there with monthly growth rates as high as 70% year over year. We now run neck and neck with The Times, with up to 107 million unique visitors per month in the United States.
And No. 4: Advanced technology will be key to our success. Without it, success will not be possible.
We have to be leaders. If we are technological laggards, we will be losers.
Media outlets will need to have top-notch technology experts on staff. We will have to create engaging new products for readers and advertisers – and do it quickly.
We will have to respond almost instantly to developments like virtual reality, 360-degree video, and new products like Amazon Echo, a hands-free speaker you control with your voice to play music or get information about news, sports scores, weather, and more.
Routinely we will have to partner with technology firms – Facebook, Apple, Twitter, Google, Snapchat, and others, including many yet to be born.
We also will have to form technology partnerships within our own companies. At The Washington Post we have fostered a tight working relationship between the newsroom and the Engineering department. Dozens of engineers sit in our newsroom, working closely with our journalists.
All of us in this field are working harder. Now we have to work smarter. And technology is key.
What I have described is the path we have taken at The Washington Post since we were acquired by Jeff Bezos, the founder of Amazon, in October 2013.
Jeff Bezos immediately reoriented the strategy for The Post. We would no longer be a news organization focused mostly on our region. Jeff felt we should be national and international. We needed to get big fast.
The Internet had deprived our industry of many things. Among them, of course, the security of an industry that was expensive to enter because it required paper, ink, printing presses, and trucks. But the Internet, Jeff pointed out, has also given us some gifts. Most important: We can achieve wide distribution of our work at virtually no cost.
If the Internet had ways of hurting us, why wouldn't we take advantage of the ways the Internet could help us?
We have taken many steps toward transforming our newsroom: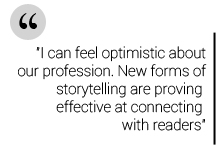 We created an overnight staff that scans the web for interesting stories, using the reporting of others and adding its own -- and then writing in a distinct, more informal style that works especially well on the web. This staff works from 10 at night until 6 in the morning. So we have many new stories for readers when they wake up.
This team, by the way, was responsible for our second most popular story last year. It involved a woman in Australia who showed up at her own funeral to surprise her husband who had paid to have her killed. You'll have to look it up. It's a complicated but amazing tale.
We established a general-assignment news team that works during daytime hours, starting very early. Of course, it covers breaking news in any subject area when necessary. But, for the most part, it searches for stories that are beginning to generate conversation in social media or that have gone unnoticed.
This team produced our third most popular story last year. Here's the story: Witnesses had seen a Stanford University swimmer sexually assaulting an unconscious woman behind a garbage dumpster. Now, the victim was able to confront him in court. She faced the swimmer to say: "You took away my worth, my privacy, my energy, my time, my intimacy, my confidence, my own voice. Until today."
We created many news-oriented blogs covering specialized areas – like the environment, science, military affairs, the culture of the Internet, parenting, spiritual life, pop culture, the animal world, and many other subjects.
On the parenting blog, the most popular story last year was "How to raise kinder, less entitled kids (according to science)." On the blog about the culture of the Internet, one of the most popular was about a 38-year-old who makes his living writing fake news stories so that they go viral on Facebook. He declares: "I think Donald Trump is in the White House because of me."
We added resources for pre-existing blogs that already had been highly successful, including ones that focused on politics, economics, public policy, and world affairs.
The newspaper's opinion section now reflects the ways of the Internet. New opinion writers do not wait until their column for the newspaper is scheduled for publication. They offer their viewpoints immediately when public interest is at its peak.
We developed what we felt was the ideal schedule for publishing stories during the Internet era. We required every department to publish earlier in the day when readership is at its highest. This marked a sharp shift away from a newspaper schedule, where most stories are edited during evening hours for publication the next morning.
We have added to our staff that specializes in how to disseminate our work through social media and how to use social media in our own reporting. We are concentrating not just on Facebook and Twitter but on other less-obvious social networks.
We have significantly improved our email newsletters – how they are curated, how they are designed, when they are sent. They can be a major source of traffic. And they allow us to reach readers directly rather than going through Facebook, Twitter, and Google.
We have focused on the speed of news alerts sent via email, closely measuring them against our competitors. Our goal is to be first on every news alert.
Our engineering department has created a tool that allows us to try multiple headlines, photos, and story summaries all at the same time. Whichever is performing best is promptly delivered to all readers – automatically.
Our engineering department also has developed a tool that uses "big data" to customize our recommendations for which additional stories might interest readers. This tool delivers far better results than human judgment.
Working with the engineering department, we have also built something called the "Washington Post Talent Network".
There are many journalists who are unemployed, underemployed, prematurely retired, and still eager to work. So we created an online freelance network that gives us access to reporters, photographers, and videographers around the United States and the world.
We now have 2,900 journalists worldwide in the talent network.
It has helped us cover mass shootings in the United States, as we did last June at the Florida nightclub where 49 people were killed. It has helped us cover terrorist attacks overseas, as we did in Nice last July when 84 people were killed. Freelancers arrived on location quickly in both instances.
Most interestingly, we now have independent journalists around the United States and the world looking for the best stories and proposing to do them for us.
In the middle of a devastating drought in Southern California, one freelancer wrote about how rich people were ignoring government restrictions on water use. They were using as much water as they wished. One wealthy property owner was quoted as saying: People "should not be forced to live on property with brown lawns, golf on brown courses or apologize for wanting their gardens to be beautiful … No, we're not all equal when it comes to water." You can imagine the outrage from readers.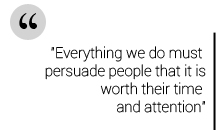 In short, we are experimenting feverishly to drive traffic, get readers to spend more time with our stories, and build more loyalty to The Post.
It has been a successful strategy. As I said earlier, online traffic has soared as high as 107 million unique visitors per month in the United States. Subscriptions have surged. Readers' time spent with our stories has moved up. And 2016 was a profitable year, the first in a very long time.
That performance has set the stage for additional investments in our newsroom in 2017. At a time of cutbacks at so many media organizations, we will be adding this year about five dozen journalists.
Our video team will expand dramatically. We will create a rapid-response investigative team. We will add to our capacity for instantly covering breaking news at any time of the day or night seven days a week.
I am often asked whether I can feel optimistic about our profession. I say yes. And here's why.
New forms of storytelling are proving effective at connecting with readers.
The use of video, social media, interactive graphics, original documents – all of that – can make storytelling more vivid. And even more credible because it means we can show, not just tell.
The pressures on our industry are forcing us to pay close attention to our customers – and that is a good thing. The work we do must resonate with a public that is routinely impatient, easily distracted, and quickly bored.
That doesn't have to mean only short stories. It doesn't have to mean clickbait. Long stories can attract readers – and hold them. But they need to be written compellingly and presented in formats that take into account the way people consume information today.
Everything we do must persuade people that it is worth their time and attention.
I am also encouraged by what I see in the new generation of journalists entering our field.
They come with the skills required. They can think well, write well. They're bright, they're energetic, they're enthusiastic. They love what journalism can do. They understand its vital role in society.
And they appreciate that there are new, highly effective ways to tell stories that utilize all the new, powerful tools available to us.
These young journalists are true digital natives. It shows. And they are determined to make journalism work for people of their generation. For that, I could not be more grateful.
I am also encouraged by the experimentation I see in our industry. No one, as far as I know, can claim to have found a miracle cure for all that afflicts us. But all the experimentation is likely to deliver some strong clues about the path forward.
For all that we must do to remake ourselves, it's important to remember what remains the same.
Without good ideas for stories – without reporting those stories well, writing them well, executing at the highest level in every way – we will not succeed.
All the technology tools in the world cannot substitute for strong journalism – journalism that informs our community and our countries, that forms the basis for civil society and democratic governance.
There's a quote from our owner, Jeff Bezos, on one of the glass partitions in our new offices in Washington, D.C. It makes clear that we do ourselves no favors if we only think about business and forget about mission.
Jeff's quote goes like this: "I strongly believe that missionaries make better products. They care more. For a missionary, it's not just about the business. There has to be a business, and the business has to make sense, but that's not why you do it. You do it because you have something meaningful that motivates you."
All true journalists have something meaningful that motivates them. It is our compass.
At the center of our mission is journalism that holds powerful institutions and individuals accountable. We have an obligation to speak truth to power. And the powerful in our world should never be allowed to suppress it.
Truth today is under siege from another source. Even basic facts are questioned, disputed, and dismissed. The Internet is at the heart of this troubling turn of events.
The Internet can be a source for good, allowing freedom of expression. It also allows that expression to veer into a dark world of falsehoods and conspiracies. And it allows those falsehoods and conspiracy theories to be disseminated instantly to millions of individuals, where many are inclined to believe them.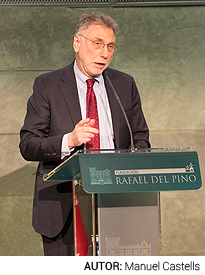 We live in an era when information consumers have almost unlimited choice. Choice is good. But in choosing, many people have been attracted to ideologically motivated media outlets that only reinforce their pre-existing point of view -- and never challenge it.
Most concerning, though, is this: Many of these outlets deliver to their readers, listeners, and viewers purported facts that are, in actuality, falsehoods.
Ideologically-driven Internet outlets have suggested that someone other than Osama bin Laden and Al Qaeda were responsible for the attacks of 9/11 – perhaps the U.S. government or Jews and Israelis.
They still maintain that the president was not born in the United States even though all evidence shows he was and no evidence shows he was not. One fifth of Americans believe he was born outside the country, even though he was born in Hawaii. And twenty-nine percent believe he's Muslim, even though he is Christian.
One radio host, also the operator of a popular Internet site – who also, by the way, has been praised by Donald Trump -- has spread the idea that some mass shootings in the United States were hoaxes and perhaps staged by the government. He claimed that the 2012 killing of 20 children and 7 adults at an elementary school in Connecticut was a fabricated event, with the purpose being to boost public support for gun control.
He called images from the scene of that mass killing "synthetic," "manufactured," "completely fake, with actors."
The parents of a six-year-old boy murdered at that school ultimately spoke out about the harassment they had received from people who believed these conspiracy theories and accused them of participating in a hoax orchestrated by the Obama administration. Here is what they wrote:
"The heartache of burying a child is a sorrow we would not wish upon anyone. Yet to our horror, we have found that there are some in this society who lack empathy for the suffering of others. Among them are the conspiracy theorists that deny our tragedy was real. They seek us out and accuse us of being government agents who are faking our grief and lying about our loss."
During the presidential campaign, the daughter of the school's principal, who was murdered, pleaded with Trump to denounce this radio host and Internet operator. "We cannot normalize fact-denying behavior," she wrote.
According to one conspiracy theory that circulated widely, Hillary Clinton and the man who led her presidential campaign were operating a child sex-slave ring from a Washington, D.C., pizza restaurant. This theory held that the sex trafficking was revealed in code words that were contained in emails that had been hacked from officials of the Democratic Party.
It's hard to comprehend what happened next.
In early December last year, a man drove up from North Carolina to Washington, D.C. Armed with an assault-style rifle, he walked into the restaurant to, in his words "self-investigate" the alleged sex ring. He fired his weapon multiple times. Fortunately he did not shoot anyone. He told police that he brought the weapon in order to carry out a rescue.
Shockingly, even after this crazy incident, nearly half of Trump voters still believe that those leaked emails of the Democratic Party contain code words for pedophilia, human trafficking, and satanic ritual abuse.
Our new president himself said during his campaign that thousands of Muslims in New Jersey publicly celebrated the fall of the World Trade Center towers on September 11, 2001. No such thing happened.
He also said falsely after the election that millions of people voted illegally. As you may know, Donald Trump did not win the votes of most people who cast ballots in the election. Hillary Clinton did, by almost 3 million votes. Trump won in what is known as the electoral college, which is how we select a president.
The winner of each state gets all the electoral college votes for that state. Trump won by a total of about 80,000 votes in three states – Pennsylvania, Michigan, and Wisconsin – giving him a clear majority in electoral votes.
Trump argued on Twitter that he would have won the popular vote without millions of people voting illegally. In fact, no one has produced any evidence of significant voter fraud in the presidential election.
Even so, six out of 10 people who voted for Trump believe that millions of illegal votes were cast. And even a quarter of Clinton voters agree.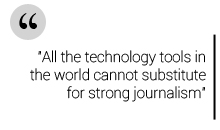 The journalist Masha Gessen made a smart assessment of all this last month: When Trump repeatedly makes false statements of this sort, he is not only making easily disprovable factual claims -- "he is," she wrote, "claiming control over reality itself." The purpose is, as she concluded, "to assert power over truth."
This past Saturday, the president's press secretary falsely claimed that the crowd attending Trump's inauguration was the largest ever, even exceeding Barack Obama's inauguration in 2009, and called the press "shameful" for reporting that it wasn't. All the evidence shows that the press reported accurately and that the press secretary's statement was untruthful.
It may be premature to judge, but it is no wonder that people immediately reacted on the Internet with references to George Orwell and, in particular, to this one quote from his ominous book "1984": "The Party told you to reject the evidence of your eyes and ears. It was their final, most essential command."
Unfortunately, fact-checking by mainstream media outlets has little to no effect, largely because trust in the media is so low. Trust in the media has fallen along with confidence in many other major institutions. But our ranking is among the worst.
Americans' trust and confidence in the mass media "to report the news fully, accurately, and fairly" is at its lowest level in history. Only 32% say they have a great deal or fair amount of trust in the media, down eight percentage points from last year alone -- and down 25 percentage points from 1999.
Distrust of the mass media among Republicans is the major factor driving down the numbers. The figures were already bad before the election. But after Trump's sharp attacks on the media, Republican trust in the media plunged to 14% from 32% a year ago. That is the lowest level of confidence among Republicans in two decades.
So we are objects of suspicion, and our work is met with resistance or outright rejection. Conspiracy theories and falsehoods can easily fill the vacuum. And they have.
Politicians and certain ideologically motivated websites are now using the term "fake news" as a weapon against real news perceived as hostile to their agenda.
While U.S. intelligence services may agree that Russia interfered in the elections by hacking the Democratic party, the website Breitbart dismissed it all as "left-wing fake news." The leading conservative radio host in the United States has said "the fake news is everyday news" in mainstream media.
Journalism, like every profession, is imperfect. Mistakes are made. But even big mistakes among news organizations that seriously endeavor to get the facts are entirely different from deliberately publishing pure fiction.
With so many conspiracy theories and so much false information on the Internet and elsewhere – and with so much conflicting information – many people are left with no idea what to believe. The easiest course, then, is to believe whatever you'd like.
All of this is having a corrosive effect.
How can we have a strong civil society when we can't agree on basic facts, when people accept lies as truth?
One of our opinion columnists, Anne Applebaum, wrote that it is now possible to "live in a virtual reality" where lies "are acclaimed as the hidden truth."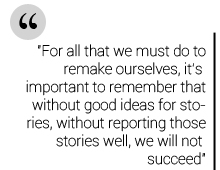 For all the challenges we face in media today, this is the greatest -- and the most grave. It is greater than our financial challenge. It is greater than our technology challenge.
It is why we as journalists must stay faithful to our central purpose. Someone must still tell things as they really are.
And we can't be timid about it. Amid all the talk about how we as journalists must be fair in our reporting – and, yes, we must – above all our obligation is to be fair to the public.
When we have done all our research -- when we have done our job thoroughly, honestly, and honorably -- we have a duty to tell the public what we've learned. And to tell it to them forthrightly.
No government power – no powerful institution, and no powerful individual -- should have the right to stop us. And we in the press should not stop ourselves because of fear or self-censorship.
These are times to remind ourselves what it means to be a free people -- times to think hard about what is required of us if we wish to hold on to freedoms that we value.
One of the most renowned Supreme Court justices in the United States was Louis Brandeis.
In a famous court ruling in 1927, he reflected on the beliefs about freedom held by those who fought for the independence of the United States. He wrote: "They believed liberty to be the secret of happiness and courage to be the secret of liberty."
In too many countries, in too many ways, our liberties are being placed at risk. Among those most in jeopardy are free expression, including a free press.
For those of us who work in the press – and for all who cherish the free expression that gives meaning and life to our democracies -- the quality we now need most is courage.
Thank you for listening.