Antonio Martínez-Illán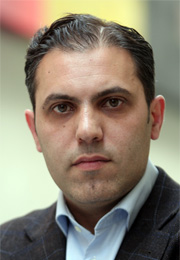 Profesor de
Edificio Bibliotecas Despacho 2541
Campus Universitario
31080 Pamplona, Navarra, España
Tf: (34) 948 425 600 ext. 2851
Correo-e: amartinez@unav.es


Doctor en Comunicación por la Universidad de Navarra y secretario del Departamento de Cultura y Comunicación Audiovisual.
Ha publicado el libro Seis poemas de Joseph Brodsky (Eunsa, Pamplona, 2005) y coeditado 'Divulgar la ciencia' (Eunate, 2000). Ha sido Profesor Invitado en la Universidad de Montevideo y Secretario del II Congreso Internacional Homenaje a José Jiménez Lozano (Pamplona, 2004). Como periodista ha trabajado para Europa Press(Madrid).
Su investigación se centra en la poesía y el cuento del siglo XX y en su relación con el cine. Ha publicado artículos sobre Antón Chéjov, Joseph Brodsky, Flannery O'Connors, Ignacio Aldecoa y José Jiménez Lozano.
Es miembro de la Assocciation of Literary Scholars and Critics, de la Asociación Española de Didáctica de la Lengua y la Literatura y de la Cátedra Félix Huarte de Estética y Arte Contemporáneo. Forma parte del Consejo Editorial de 'Revisiones' (revista de crítica cultural).
Colabora como crítico literario en Nuestro Tiempo, Archipiélago y notodo.com.