Research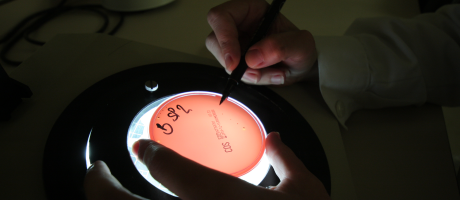 Academic research is the driving force of university teaching, which is why there is a very close relationship between the research done by professors in the School of Sciences and the instruction they provide to students.
Our research is carried out in a multidisciplinary way across different areas of science: biology, environmental management, chemistry and biomaterials, biomedicine, genetics and cell biology, mathematics, biophysics, bioinformatics, etc.
The School of Sciences is located in the area of the university campus dedicated to Experimental and Health Sciences, where it works closely with the School of Medicine and the School of Pharmacy, the Clínica Universidad de Navarra (CUN) and other university research centers, such as the Integrated Laboratory for Environmental Quality (LICA), the Center for Applied Medical Research (CIMA), the Center for Center for Research in Applied Pharmacobiology (CIFA), the Genetic Analysis Service, etc. In addition, several university departments span multiple schools.
Contact: C/ Irunlarrea, 1 31008 Pamplona Spain +34 948 42 56 00 (ext. .806222) ciencias@unav.es