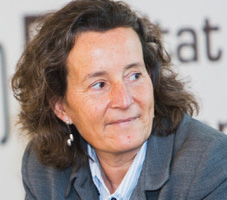 María Iborra
University of Valencia
Management department
María Iborra Juan is associate professor at the Management Department of Valencia University. Her research and teaching focus are on strategic management, the role of upper echelons, corporate governance and CSR.
Her teaching responsibilities include modules of strategic management and CSR at different levels of university degrees including MBA. She has been awarded with the excellence teaching prize of Consell Social de la UV and Valencia Local Government (Generalitat Valenciana).
She has published in different journals including Business Research Quarterly, International Business Review, European Journal of International Management, European Journal of Management and Business Economics or Globalization, Competitiveness & Governability Journal. She has been a visiting professor at the University of Connecticut.
In terms of her positions at University of Valencia, she took part of the team in charge of defining the first strategic plan, member of the University Senate and of the Governing Council. At the Faculty of Economics it can be highlighted her role as vice-dean of Strategy, Planning and Quality. At Foundations she has been president of the board of trustees of Proyecto Hombre Valencia-Fundación AMR, administrator of MAIDES Foundation, Member of the Economic Advising Council of Caritas Diocesana Valencia, member of the board of trustees of Fundación por la Justicia and founder and secretary of the Club de Mentores de la Facultad de Economía. Additionally, she is member of the board of directors of a family firm.