Ecclesiastical Studies Library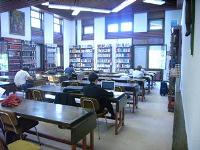 The library is primarily intended for students, professors and researchers from the Schools of Ecclesiastical Studies.
It features a study room with basic literature, reference works and journals.

The rest of the collection can be found on the 5th floor of the Main Library Reference Room; the oldest years of issue of some journals, as well as less frequently used books, are classified in the Humanities Storage Library and can be requested for viewing there.

The Library Services Guidebook is available here.
Contact: Edificio de las Facultades Eclesiásticas, Planta 1ª. 31009 Pamplona España 948 425 600 (Ext. 802461) acozar@unav.es