Reference Room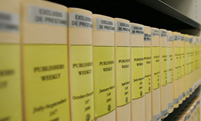 The Reference Room holds general reference books, such as dictionaries, encyclopedias, indexes, directories and bibliographies.
Reference works cannot be checked out given that, in general, they can be used relatively quickly and on the spot. For this reason, they should be used in the room itself.
You may partially reproduce the content of these works (following all applicable laws) by photocopying or printing them, or by saving them to a flash drive or the University virtual disk.
Contact: University of Navarre. Main Library, Ground floor. 31009 Pamplona Spain +34 948 425 600 (Ext. 802065) bibhumcons@unav.es