Interlibrary loan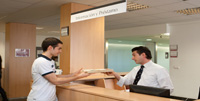 Objective:
The Interlibrary Loan service aims to locate and obtain documents not available in the Library's collection and to provide items from its collections to other institutions.
It is important that you search the Library Catalogue before making an interlibrary loan request.
Original documents that were recently published and are readily available should not be requested via this service.
If you have not used this service before, you must register.
If you are already registered for the Interlibrary Loan service, you can authenticate yourself by entering your username and password.
Users:
Contact: Universidad de Navarra. Departamento de Préstamo Interbibliotecario. 31009 Pamplona España Main Library: (Seminar room 1D) 948 425 600 Ext. 802421 | 80 6258 pib@unav.es
documents provided to other libraries
documents received from other libraries