Depósito de publicaciones científicas
Antes de depositar un documento que ya ha sido publicado previamente debes:
Consultar las políticas editoriales de la revista en Sherpa/Romeo o Dulcinea, bases de datos que recogen los permisos de los editores de revistas científicas.

En el caso de libros o capítulos de libro, consultar la política del editor en su página web o contactar con él para obtener su autorización y, finalmente, enviarla a dadun@unav.es.
Una vez obtenido el permiso de la editorial podrás comenzar a depositar tu documento en Dadun. Posteriormente, tu documento será revisado por el personal de la Biblioteca y pasará a formar parte de la colección.
Consulta el vídeo o el manual para conocer los pasos de cómo depositar tus documentos en Dadun.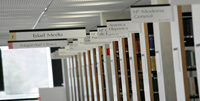 This room is intended primarily for researchers (e.g. faculty members, doctoral and master's students) in the Humanities and Social Sciences. In addition to the collection available for direct access, over 255,000 titles located in the stacks are accessible through electronic request, including digital journals, databases and more than 55,000 e-books.