EspaciosEquipamiento_BibliotecaCentral_ContenidoWebBasico_Titulo
EspaciosEquipamiento_BibliotecaCentral_CarruselAvisos_BibliotecaCentral2
LibCal_HorarioDia_BibliotecaCentral
EspaciosEquipamiento_BibliotecaCentral_ContenidoWebBasico_BibliotecaCentral
The Main Library combines, across seven floors, different types of spaces for study, research, collaborative work and rest and socializing. It houses the bibliography collection and specialized research collection in Humanities, Social and Legal Sciences and also the Audiovisual, Press, Specialized Material and Early Books collections.
EspaciosEquipamiento_BibliotecaCentral_TituloBloque_Espacios
EspaciosEquipamiento_BibliotecaCentral_ContenidoWebBasico_SalaMultipleTitulo
EspaciosEquipamiento_BibliotecaCentral_ContenidoWebBasico_SalaMultipleTexto
The Multipurpose Room , located on the ground floor is a space with different types of places for different purposes: individual desks, cubicles with a screen for group work, chairs for comfortable reading, for use of a laptop or for meetings of up to four people, and work stations for fixed and mobile groups.
The room is completed with three desks with computers, subject manuals and recommended course bibliography, a DVD documentary collection and a leisure reading collection (PLC and ENG).
EspaciosEquipamiento_BibliotecaCentral_ContenidoWebBasico_SalaMultipleFoto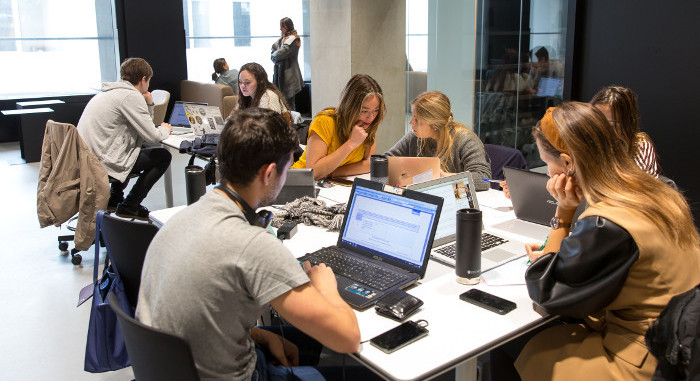 EspaciosEquipamiento_BibliotecaCiencias_TituloBloque_Equipamientos
EspaciosEquipamiento_BibliotecaCentral_TituloBloque_Colecciones
EspaciosEquipamiento_BibliotecaCentral_Banner_BibliografiaRecomendada
EspaciosEquipamiento_BibliotecaCentral_Banner_ColeccionesElectronicas
EspaciosEquipamiento_BibliotecaCentral_Banner_Literatura
EspaciosEquipamiento_BibliotecaCentral_Banner_Prensa
EspaciosEquipamiento_BibliotecaCentral_Banner_Audiovisuales
EspaciosEquipamiento_BibliotecaCentral_Banner_FondoAntiguo
Conocenos_Exposiciones_BannerA_UltimaExposicion
EspaciosEquipamiento_BibliotecaCentral_HomeCifras_Cifras
The Main Library in figures
Volumes
Free access and deposit print collection
1 million
Reading Room
In study rooms, research, and other spaces
1000
Required Bibliography
Manuals recommended in specific subjects
11 K
EspaciosEquipamiento_BibliotecaCentral_TituloBloque_Imagenes
THE MAIN LIBRARY IN IMAGES
EspaciosEquipamiento_BibliotecaCentral_CarruselGeneral_GaleriaImagenes
EspaciosEquipamiento_BibliotecaCentral_ContenidoWebBasico_Mapa
EspaciosEquipamiento_BibliotecaCentral_Contacto_ContactoBibliotecaCentral
CONTACT
biblioteca@unav.es
University of Navarra
University Campus
31009 Pamplona, España
+34 948 425 600 Ext. 802065
WhatsApp: + 34 690 141 591
Contact