Vatican Secret Archive
This initiative, launched by the Vatican Secret Archive, includes the digitalization of Vatican records (1-2020) and the Appeals Registers (1-7363).
At present the first 523 numbers of the Vatican records are available, from the pontificates of John VIII (872-882) to Pius II (1458-1464). All the bibliographic records are classified under the same shelfmark, 001,232 CDR, in the Multimedia room. They are excluded from borrowing but can be requested and must only be played in the equipment installed in the Multimedia Room.
Each bibliographic record corresponds to the documents of a particular Pope. Following the shelfmark is the registration number in the collection. In the description of each bibliographic record, the number of disks that covers the documentation of each Pope is also indicated.
Gregory VII sample record: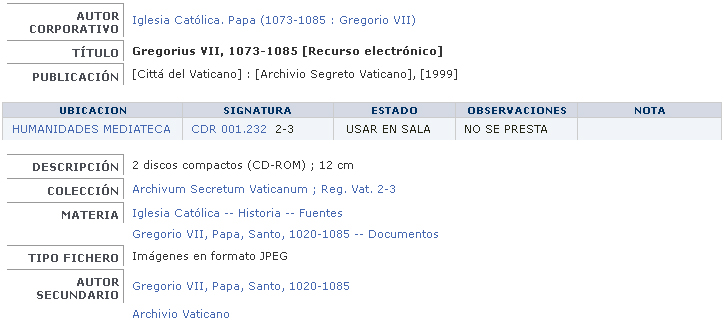 The main ways of locating an item in the catalogue

Para buscar la colección completa, se puede emplear cualquiera de estas opciones:

Título: introducir "Archivum Secretum Vaticanum" (se obtiene la serie completa, ordenada alfabéticamente por el nombre del Papa en latín).

Palabra clave: introducir "Archivum Secretum Vaticanum".

Para buscar los documentos de un determinado Papa existen también varias opciones:

Autor: introducir el nombre del Papa en castellano (por ejemplo: Gregorio VII).

Título: introducir el nombre del Papa en latín (por ejemplo: Innocentius III).

Materia: introducir el nombre del Papa en castellano (por ejemplo: Martín IV).
The index of Popes in chronological order

John VIII (872-882) Vaticanum Reg 1.

Gregory VII (1073-1085) Reg Vaticanum 2-3.

Innocent III (1198-1216) Reg Vaticanum 4-8A.

Honorius III (1216-1227) Reg Vaticanum 9-20 .

Innocent IV (1243-1254) Reg Vaticanum 21-23.

Alexander IV (1254-1261) Reg Vaticanum 24-25A .

Urban IV (1261-1264) Reg Vaticanum 26-29.

Urban IV Clement IV Gregory X, Innocent V, Adrian V, John XXI, Nicholas III, Martin IV, Honorius IV (1261-1287) Reg Vaticanum 26-29 ª.

Clement IV (1265-1268) Reg Vaticanum 30-36.

Gregory X (el. 1271, cons. 1272-1276) Reg Vaticanum 37.

John XXI (1276-1277) Reg Vaticanum 38.

Nicholas III (1277-1280) Reg Vaticanum 39-40.

Martin IV (1281-1285)) Reg Vaticanum 41-42.

Honorius IV (1285-1287) Vat Reg 43.

Nicholas IV (1288-1292) Vat Reg 44-46.

Nicholas IV Celestine V, Boniface VIII (1288-1303) Vat Reg 46A.

Boniface VIII (el. 1294, cons. 1295-1303) Vat Reg 47-50.

Benedict XI (1303-1304) Vat Reg 51.

Clement V (1305-1314) Vat Reg 52-61.

Clement V, John XXII, Benedict XII, Clement VI (1305-1352)) Vat Reg 62.

John XXII (1316-1334) Reg. Vat 63-117.

Nicholas V Antipa. (1328-1330) Reg Vat 118.

Benedict XII (el. 1334, cons. 1335-1342) Vat Reg 119-136.

Clement VI (1342-1352) Vat Reg 137-218.

Innocent VI (1352-1362) Reg Vat 219-244N.

Urban V (1362-1370) Vat Reg 245-262.

Gregory XI (el. 1370, cons. 1371-1378) Vat Reg 263-290.

Clement VII, Antipa. (1378-1394) Vat Reg 291-309.

Urban VI (1378-1389) Vat Reg 210-312.

Boniface IX (1389-1404) Vat Reg 313-320.

Benedict XIII, Antipa. (1394-1423) Vat Reg 321-332.

Innocent VII (1404-1406) Vat Reg 333-334.

Gregory XII (1406-1415) Vat Reg 335-338.

Alejandro V Antipa. (1409-1410) Reg Vat 339.

John XXIII Antipa. (1410-1415) Vat Reg 340-346.

Urban VI, Boniface IX, Innocent VII, Pope John XXIII, Martin V (1378-1431) Reg Vat 347.

Martin V (1417-1431) Vat Reg 348-359.

Eugene IV (1431-1447) Vat Reg 360-384.

Nicholas V (1447-1455) Vat Reg 385-435.

Callistus III (1455-1458) Vat Reg 436-467.

Pius II (1458-1464) Vat Reg 468-523.