Scholarships and financial aid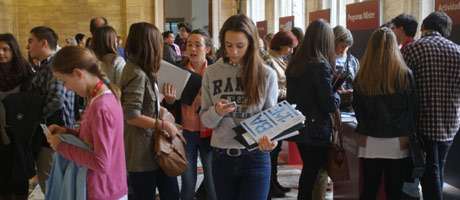 The Student Aid Office offers all students information and advice concerning scholarships and financial aid, along with other ways of financing their university studies. The University of Navarra offers this service to ensure that financial reasons do not prevent anyone with the capacity to pursue a university education from completing an undergraduate or graduate degree.
Students at the University of Navarra may take advantage of government scholarships, as well as those offered by the University itself.

More information about scholarships, also for graduate programs.
Descuento miembros alumni
Los antiguos alumnos de la Universidad de Navarra y el IESE, que en el momento de formalizar la matrícula en alguno de los Programas Máster impartidos en Pamplona o Madrid(*) sean miembros de Alumni Universidad de Navarra, obtendrán un descuento del 12% en el importe de la matrícula.
(*) Quedan excluidos los programas del IESE y el Máster Ejecutivo en Dirección de Empresas de Moda.