bur17_ponentes-riri-fitri-sari-imagen2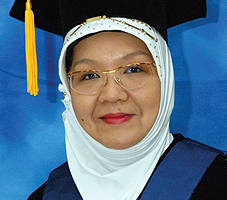 bur17_ponentes-riri-fitri-sari-titulo
MESA REDONDA
Best practices in social and
environmental responsibility

Riri Fitri Sari
UI GREENMETRIC RANKING
bur17_ponentes-riri-fitri-sari-texto

Riri Fitri Sari is a Professor of Computer Engineering at the Electrical Engineering Department, Faculty of Engineering, University of Indonesia (UI). She was the CIO/Head of Information System Development and Services of the University of Indonesia from 2006-2014. She graduated with a BSc in Electrical Engineering from UI. She gained a Master in Human Resources Management from the Atmajaya University Jakarta. Subsequently she completed her MSc degree in Software Systems and Parallel Processing from the Department of Computer Science, University of Sheffield, UK, funded by British Council Chevening Award. She hold a PhD in Computer Networks from the School of Computing, University of Leeds, UK. Her PhD research was on Active Networks-based Congestion Control Protocols. Her current main teaching and research area includes Computer Network, Grid Computing, and ICT implementation. Prof. Dr. Sari is a Senior Member of the Institute for Electronics and Electrical Engineers (IEEE), being one of the 8% of Electrical Engineers Worldwide. In November 2011, IEEE Region 10 Asia Pacific announce her as the recipient of the IEEE WIE Most Inspiring Engineer Award, awarded at the IEEE Region 10 Meeting in Kolkata, India, March 2012. Prof. Dr. Riri Fitri Sari is the 2009 Most Outstanding Lecturer at the University of Indonesia. On completing a hard selection and competition, She has also been selected as the 3rd Winner of the National Selection of the Most Outstanding Lecturer hold by the Ministry of National Education of Republic of Indonesia in conjunction with the 64th National Independence Day.
Since September 2015, she is a member of Special Task Force for Improving Indonesian Universities Academic Reputation of the Ministry of Research and Higher Education.
Since April 2010, she has been the Chairperson of UI GreenMetric Ranking of World Universities, a flagship program of the University of Indonesia to rank university worldwide based on their green campus and sustainability programs.