bur17_ponentes-ramon-salaverria-imagen2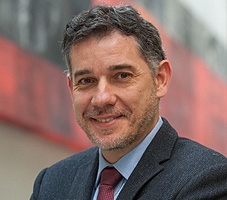 bur17_ponentes-ramon-salaverria-titulo
TALLER PARALELO

Feeding reputation: tradition or modernity in teaching techniques?

Ramón Salaverría
UNIVERSIDAD DE NAVARRA
bur17_ponentes-ramon-salaverria-texto

Director of the Center for Internet Studies and Digital Life and Associate Professor of Journalism at the University of Navarra. His research focuses on media convergence, online news storytelling and new media trends.
He was Chair of the Journalism Studies Section at the European Communication Research and Education Association (ECREA) during the term 2010-2012. Representing this association, he served as member of the World Journalism Education Council. He have been also appointed by the United Nations Alliance of Civilizations (UNAOC) to be member of Global Experts, a directory of 300 world-class specialists.
He is visiting professor for several Master's Programs, both in Europe and Latin America, lecturing on new media trends.
Author of the following books: Diversity of Journalisms (2011), Integrated journalism (2009), Cibermedios (2005), Redacción periodística en internet (2005), Towards new media paradigms (2004), and Manual de redacción ciberperiodística (2003). The Spanish national daily newspaper 'El Mundo' included Ramón several times in the list of 500 most influential Spaniards, more precisely, among the top 25 of the Internet.
He is an active media analyst on Twitter: @rsalaverria