bur17_ponentes-alfonso-carlosena-imagen2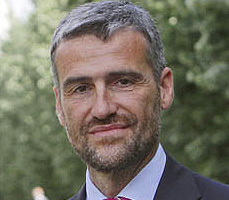 bur17_ponentes-alfonso-carlosena-titulo
MESA REDONDA
Best practices in social and
environmental responsibility

Alfonso Carlosena
UNIVERSIDAD PÚBLICA DE NAVARRA
bur17_ponentes-alfonso-carlosena-texto

He received his degree and PhD in Physical Sciences from the Universidad de Zaragoza. In 1992 while working as an assistant professor at the Universidad de Zaragoza and as a postdoctoral researcher at the Swiss Federal Institute of Technology, he was instituted as a profesor at the Universidad Pública de Navarra.
He has been invited as a guest professor in New Mexico State University and Arizona State University.
His experience in academic direction saw him through positions at the Universidad Publica de Navarra such as Department Sub-Head, Director of the Transfer of Research Results Department (OTIR), President of the Doctorates Commission, and Vice Rector of Research, until he was appointed Rector in 2015.
Other activities to highlight would be his participation as a member of the Committee of Teaching Techniques of the National Agency for Quality Assessment and Accreditation (ANECA), and as Secretary of the counterpart Committee of the Agency for Quality Assessment and Accreditation for the Basque University System (UNIBASQ).