► FREE DOWNLOAD!
'Digital News Report .es 2016', in-depth study about online media consumption in Spain
Center for Internet Studies and Digital Life (CISDL) offers the 2016 edition of the most comprehensive study on digital news market in Spain: www.digitalnewsreport.es In collaboration with the Reuters Institute's global report, and based on more than 2,000 surveys to internet users, our national study brings detailed data about current online media comsumption habitsin Spain. The report has been developed by our fellow researchers Samuel Negredo, Alfonso Vara and Avelino Amoedo.

Meet our visiting researchers in the forthcoming academic year, as well as those of the past year:
2016-2017
Ester Appelgren, Södertörn University (Huddinge, Sweden)
Alexandre Lenzi, Universidade Federal de Santa Catarina (Florianópolis, Brazil)
Pedro Sebastián Fierro Zamora, Universidad Adolfo Ibáñez (Santiago, Chile)
Stefanie Carlan da Silveira, Universidade de São Paulo (São Paulo, Brazil)
Israel Márquez, "Juan de la Cierva" Research Grant Program at Open University of Catalonia (Barcelona, Spain)
Maria João Lopes Antunes, Universidade de Aveiro (Aveiro, Portugal)
2015-2016
Patrícia Dias Soares, Universidade Católica Portuguesa (Lisbon, Portugal)
Edson Capoano, Mackenzie University and ESPM-SP (Sao Paulo, Brazil)
Carmen Beatriz Fernández, DataStrategia Consultores (Caracas, Venezuela)
Teresa Nozal Cantarero, Universidade da Coruña (A Coruña, Spain)


Center for Internet Studies and Digital Life
School of Communication
University of Navarra
31009 Pamplona
Spain
Phone: (+34) 948 42 56 17
Twitter: @digitalunav
Facebook: https://www.facebook.com/digitalunav/
Email: digitalstudies@unav.edu

Meet the staff of the Center for Internet Studies and Digital Life:

If you are a posdoctoral or junior researcher on digital communication, come and join us as visiting researcher.


Free download of our last reports and books:
Digital News Report 2016 (Spain),
coordinated by the Center for Internet
Studies and Digital Life – University of
Navarra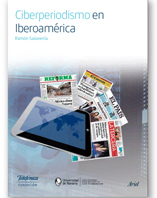 Ciberperiodismo en Iberoamérica,
coordinated by Ramón Salaverría
(Madrid: Fundación Telefónica & Editorial
Ariel).


Watch our videos about trends on digital communication:
Digital News Report 2016 (1' 27"), summary of the main findings and its presentation in Madrid, in June 2016.