La Universidad Wilfrid Laurier de Canadá, ganadora del Case Competition de la Universidad de Navarra
Un total de 64 alumnos procedentes de 16 universidades, de 10 países, han participado en la VII edición de esta competición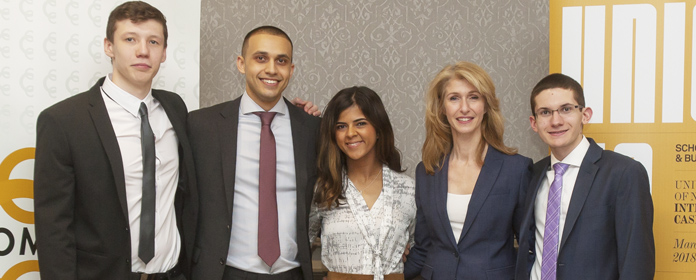 El equipo de la Universidad Wilfrid Laurier de Canadá, ganador de la University of Navarra International Case Competition 2018
FOTO: Manuel Castells
El equipo de Case Competition de la Universidad Wilfrid Laurier de Canadá logró la primera posición del torneo académico de casos de empresa University of Navarra International Case Competition (UNICC). Un total de 64 alumnos procedentes de 16 universidades, de 10 países, han participado en la VII edición de esta competición, única entre las universidades españolas, y organizada en exclusiva por alumnos de la Facultad de Económicas y Empresariales.
A lo largo de seis días, los participantes del Case Competition han tratado de resolver como consultores profesionales problemas de la empresa navarra Congelados de Navarra, del Grupo de Iniciativas Sociales Icària y de Helvetia Seguros ante cerca de 40 profesionales que actuaron como jueces, de entidades como PwC, Deloitte, Bankinter, Credit Suisse, y la consultora Ayming Consulting.
Los estudiantes de los 16 equipos participaron en la ronda final de 24 horas que tuvo lugar en el Hotel Tres Reyes y en la Facultad de Económicas sobre la aseguradora Helvetia Seguros. El equipo de la Universidad Wilfrid Laurier de Canadá se hizo con el primer puesto de la Competición, el segundo lugar fue para la University of Alberta en Canadá y el tercero para la National University of Singapore.
Además de competir como consultores profesionales, los equipos procedentes de Estados Unidos, Canadá, Reino Unido, Singapur, Irlanda, Países Bajos (Holanda), China (Hong Kong) y Tailandia, junto con un grupo de España, han podido conocer la gastronomía y cultura navarra de la mano de la Facultad de Económicas.