eventos-chinaprogram-masters-architectural
Master's Degree in Architectural Design
Master's Degree in Architectural Design
Credits: 90 credits
Duration: 14 months
Start: September / January
Location: Pamplona Campus
Modality: On campus, full time
Language: Spanish and English
Fees: 16.362 €
Contact: masters_etsa@unav.es
Prospective student profile
The Master's Degree in Architectural Design is aimed at university students and young professionals who wish to acquire a high level of theoretical and practical competence that will enable them to cope with the complexity of contemporary projects and respect the principles and ethics governing the profession.
Why the University of Navarra?
Pioneering school
The MDA is the first master's degree in the field of architectural project implemented in Spain. Guaranteed by a solid experience, modeled on the Anglo-Saxon graduate program.
Excellence in the architectural projects
The Master`s Degree in Architectural Design is a response to the growing demand among architecture graduates throughout the world for additional training in projects and design that in now only possible to obtain through professional practice in architectural studios headed by architects of recognized prestige
Internationally renowned professors
Having the opportunity to deal directly with renowned architects from the international architecture scene throughout each academic year constitutes the basic appeal of this learning experience.
Rafael Moneo (Spain), Joao Álvaro Rocha (Portugal), Francisco J. Mangado (Spain), Mark Wigley (USA), Hartmut Frank (Gerrmany)…
Curriculum
The core of the master`s degree consists of Project-focused subjects, as well as single-topic subjects on architectural theory and criticism, and one subject on professional ethics.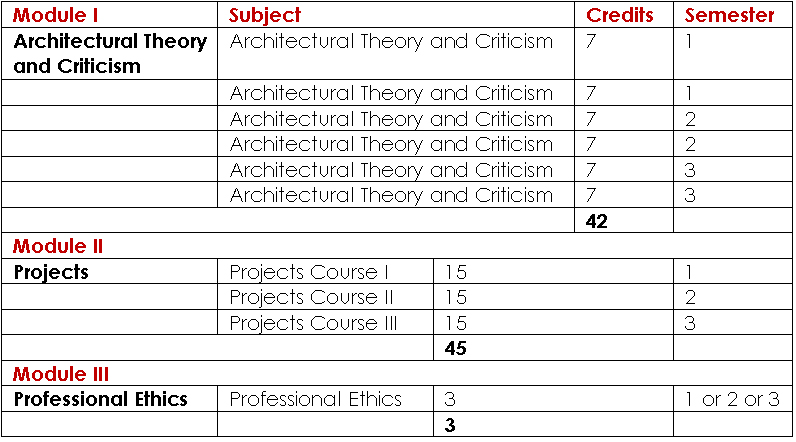 Projects
These are based on the individual completion of a design task proposed by the professor. The projects may address such topics as urban design, land intervention or the treatment of the landscape.
The project is carried out under the guidance of a faculty member, who is an architect with experience and recognition on the national or international stage. The small number of students in each group helps promote familiarity and direct contact with faculty members, who act as mentors and guides. The final assessment of the projects is carried out by a panel of experts.
Architectural Theory and Criticism
This provides students with an ideal opportunity to acquire an in-depth understanding of the cultural and humanistic dimensions of the discipline through single-topic subjects on various topics related to the specialization of the faculty members who teach them.
These subjects constitute an excellent opportunity to take a closer look at some of the most significant international figures and philosophies in the fields of architectural theory, history and criticism.
Professional ethics
This subject aims to encourage students to reflect on the ethical implications of practicing architecture in order to make them aware of the impact their activity has on society`s development.
The working method combines presentations by faculty members with discussions on case studies and presentations by students. At the end of the academic year, the students carry out a research project.