bur17_ponentes-begona-echevarne-imagen2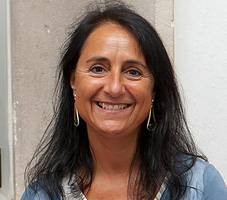 bur17_ponentes-begona-echevarne-titulo
TALLER PARALELO
Communication strategies with students

Begoña Echevarne
UNIVERSIDAD DE NAVARRA
bur17_ponentes-begona-echevarne-texto

Ms. Echevarne received her Bachelor of Arts (B.A.) and it´s Spanish equivalent in Journalism at the University of Navarra. She also has a Master's degree in Institutional government and culture through the same institution.
Since 2009, she has been the Director of Internal Communications at the University of Navarra as well as an established communications consultant. In 2003, she initiated and directed the internal communication department of the Clínica Universidad de Navarra where she held the position of co-director of communications from 2001 through 2003. Prior to that position, she started and was at the forefront, for more than ten years, of the Communication Department in the School of Engineering of the University of Navarra (TECNUN) and the technical investigation center, CEIT or Centro de Estudios e Investigaciones Técnicas de Guipúzcoa.
She has also participated as an associate professor for the classes "Written and Corporate Communication" at the University of Navarra. She has held several conferences and assisted in diverse educational institutions including the health sector. All of which dealt with internal and external communication, image, and reputation of professionals in institutions. She has also been the director of design and composition of the magazine "Nuestro Tiempo" as well as founded and collaborated with the editing of institutional print and their versions online.