bur17_ponentes-andy-shaindlin-imagen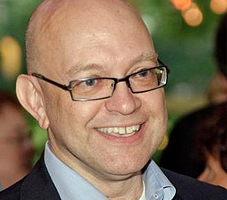 bur17_ponentes-andy-shaindlin-titulo
TALLER PARALELO

Alumni networks: allies for institutional reputation

Andy Shaindlin
VICEPRESIDENTE DE GRENZEBACH GLIER AND ASSOCIATES (GG+A)
bur17_ponentes-andy-shaindlin-texto

Andy Shaindlin brings nearly 28 years of experience to the firm in Advancement, Alumni Relations, and Annual Giving in higher education, with expertise in strategic planning, volunteer management, and organizational design for professionals in educational administration.
His extensive experience includes Alumni Relations best practices, strategy, staffing, and trends; Boards and nonprofit governance models; Alumni Relations alignment with fundraising; and digital engagement strategy for alumni;.
Most recently, Andy served as Associate Vice President for Alumni Relations & Annual Giving at Carnegie Mellon University, where he led a team of 26 staff members in global outreach and annual fundraising for the University's 97,000 alumni worldwide. Andy managed Carnegie Mellon's alumni relations and annual giving programs and guided the growth of its Loyal Scot student and alumni engagement recognition program. Loyal Scot grew out of the University's successful Inspire Innovation! Campaign, which raised $1.17 billion. Andy also led the alumni team during the $1.7 million renovation and relaunch of Carnegie Mellon's Alumni House, and he instituted the University's first crowdfunding platform.
Previously, Andy served for more than ten years as Executive Director of the Caltech Alumni Association. He was also Senior Director, Alumni Programs for the Alumni Association of the University of Michigan and its Director of Alumni Education and Travel. He began his advancement career with seven and a half years in Alumni Relations for his alma mater, Brown University.
Andy is the founder and author of Alumni Futures, which he launched in 2007 as the first website specifically for alumni relations professionals. Andy chaired the Commission on Alumni Relations for the Council for Advancement and Support of Education (CASE) and served on the CASE Board of Trustees. As a recipient of the coveted CASE Crystal Apple award, Andy has been recognized by his fellow professionals for excellence in training and education.
Andy is a member of the Board of Trustees of the American Councils for International Education in Washington, DC. He also serves on the Alumni Advisory Group of Future First Global, based in London, England. Andy holds a bachelor's degree in international relations from Brown University and a master's degree in education from Claremont Graduate University.
Prior to joining GG+A, Andy consulted for numerous clients, including the Association Française des Fundraisers; Berkeley Preparatory School (Florida); Cal Alumni Association (UC Berkeley); the Dalton School; Canada's Department of Foreign Affairs & International Trade; the Institute of American Indian Arts; the National University of Singapore; Reed College; the University of Waterloo (Canada); and Williams College.