Scholarships and Financial Aid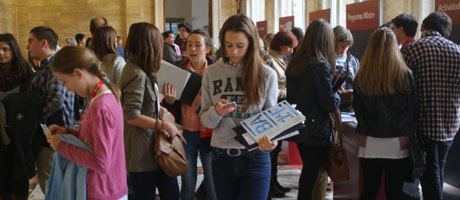 Students at the University of Navarra may take advantage of government scholarships, as well as those offered by the University itself.
Incentive Scholarships (2013-2014 academic year)
Offered by: University of Navarra
Recipients: Students who wish to pursue graduate studies through the doctoral dissertation stage.
Application period: Until June 3, 2013
University of Navarra-Santander Group Scholarships 2013-2014 academic year
Recipients: European and Latin American students enrolled in this master's degree program. Two scholarships each year.
Application period: March 1 to May 15, 2013. One application period.
International Graduate Scholarships. PRONABEC 2013-2014 academic year
Recipients: Peruvian students
Offered by: PRONABEC. Ministry of Education. Peru
Application period: from November 25, 2012 to June 15, 2013.
Alβan Program Scholarships (for Latin American students)
In 2002 the European Commission adopted the Alβan Program, a high-level scholarship program specifically addressed to Latin Americans.
MAPFRE Foundation Graduate Scholarships 2013-2014
Recipients: university graduates
Offered by: MAPFRE Foundation
Application period: until September 10, 2013
Go to the scholarship search engine for more information.
Ranked no. 1 by El Mundo for graduate education in the field

More than 40% of students are international

60% of Master's Thesis Projects are presented in English.