Información Estudio is temporarily unavailable.
About the MCPC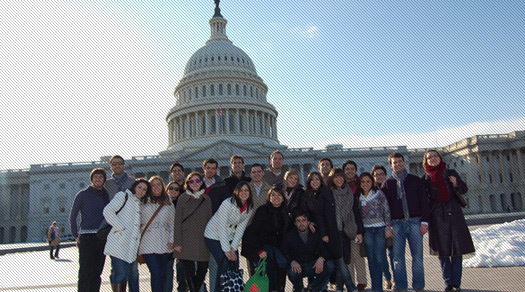 A full-time program carried out in Pamplona, Washington D.C. and the city where internships are undertaken.
Official degree program
The Master's Degree in Political and Corporate Communication is an official postgraduate degree program approved by the Ministry of Education and valid throughout the European Union in accordance with the new European Higher Education Area (EHEA).
Students will also receive official certification that they have completed the Four-Week Program in March from the Graduate School of Political Management (GSPM) at George Washington University.
One month of the master's program in Washington D.C.
Thanks to a partnership agreement with George Washington University, master's students undertake part of the program at the Graduate School of Political Management: this is the so-called Four-Week Program.
During the month of March, a series of subjects and activities are held with professors from the GSPM and other professionals in the field of political communication and public relations as part of a specifically designed program. This provides an unbeatable opportunity to acquire knowledge at the very political and institutional heart of the United States.
Internships in companies and institutions
The program is undertaken between April and June and includes professional internships in companies and institutions in accordance with the agreements in place between the School of Communication and these organizations. Internships are obligatory and constitute a third of the total number of credits that make up the master's program. They are included in the program's comprehensive educational cycle.


Request information
General contact:
Campus universitario 31009 Pamplona Spain

+34 679 56 57 01
jorgealiende@unav.es
Scholarships and Financial Aid