Activities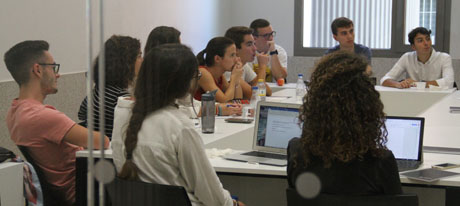 ThinkTech
Held twice a month, this research seminar seeks to establish an international and interdisciplinary community of university students dedicated to the reading, study, reflection and respectful debate of challenging questions around modern technology. From an appreciation of the transformative power of technology, we develop proposals that might help steer its impact towards the common good.
Participants are expected to prepare the provided materials (texts, audios, videos, news) in advance, actively participating in the seminar discussion. At the end of the semester, they prepare a contribution to our blog (ADDRESS). Additionally, they are encouraged and trained to be able to express their ideas and contributions in the public sphere, participating in local, national and international forums.
The seminar program is structured in four parts (spanning two academic years, four semesters), in which we cover the following topics:
Relationships: impact of technology on friendship, romantic relationships, interpersonal trust, personal identity, etc.

Democracy: security and surveillance, privacy, polarization of opinions, politics and emotions, etc.

Work: future of work, automatization, the worker of the future, etc.

Artificial intelligence: types and applications, ethical issues, potential impact, etc.
Students approach each topic from a specialty area (which might or might not coincide with their major) like economics, psychology, sociology, politics, philosophy, law, international relations or communication. By doing so, they deepen in their field of study with a closer look at a future in which technology will play an ever more crucial role.

General contact:
Institute for Culture and Society
Main Library
Campus Universitario s/n
31009 Pamplona Spain +34 948 425600 (Ext. 802083)
jgmanglano@unav.es