ATLANTES: Human Dignity, Advanced Illness and Palliative Care
Sedación paliativa
The use of proportional palliative sedation for the relief of refractory symptoms: an international multicenter study

Due to the rise in cancer and multiple chronic disease, the number of patients with refractory symptoms, ie severe symptoms where conventional treatment options fail, is likely to increase. In such cases palliative sedation (PS) can be indicated which involves the intentional lowering of consciousness at the end of life.
However, PS is too often restricted to continuous deep sedation and confused with hastening of death. This proposal offers a modified concept, namely proportional PS, with titration of sedatives up to the point of symptom control to improve patient comfort.
he project consortium consists of experts in the field of palliative care and PS from 8 North-Western, Southern, and Central-Eastern European countries. Renowned advisory board members are involved among which the European Cancer Patient Coalition to foster the patient perspective. A dedicated European taksforce for PS is foreseen as a follow up after the project's finalization.
The main objectives for the project are as follows:
1) Investigate current state of the art in the delivery of palliative sedation, including terminology used, through a comprehensive literature review and national surveys.
2) Perform an observational, international multicentre study of palliative sedation practices in five palliative care centres.
3) Perform a qualitative multiple case study of palliative sedation in five centres in Europe to enrich understanding of palliative sedation practices from the perspectives of physicians, nurses, and bereaved family members.
4) Conduct a moral case deliberation in 16 clinical centres across Europe to investigate clinical decision making about refractory symptoms and proportional palliative sedation.
5) Perform a cost consequence analysis and formulate policy recommendations of a proportional palliative sedation approach
6) Revise the current European framework on palliative sedation using a Delphi procedure.
7) Develop and deliver an online educational course to help clinicians, patients, families, and interested people to better understand the use of palliative sedation for refractory symptoms, including medical and ethical aspects.
8) Disseminate the key messages throughout the duration of the Palliative Sedation project and beyond using a targeted, timely and fully integrated knowledge transfer and exchange approach, which will include the publication of a free-to-download e-book.
This project has received funding from the European Union's Horizon 2020 research and innovation programme under grant agreement No 825700.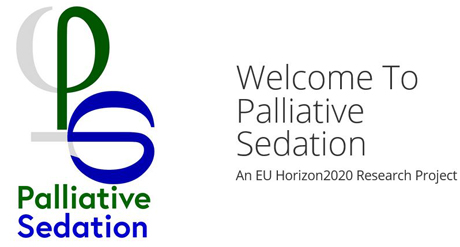 ATLANTES members of the team:
· Carlos Centeno, WP2 Lead
· Eduardo Garralda, Research Assistant
· Alazne Belar Beitia, Researcher
· María Arantzamendi, Researcher
· Rafael Martínez Sánchez, Clinical Research Fellow·
· Carla Reigada, Research Assistant
· Rocío Rojí, Clinical Researcher