115 experts from 7 countries participate in an international conference on agricultural insurance in Bolivia
The PROFIN Foundation, in collaboration with the Navarra Center for International Development at the ICS and other institutions, organized the event, which is part of a project funded by the International Initiative for Impact Evaluation (3ie)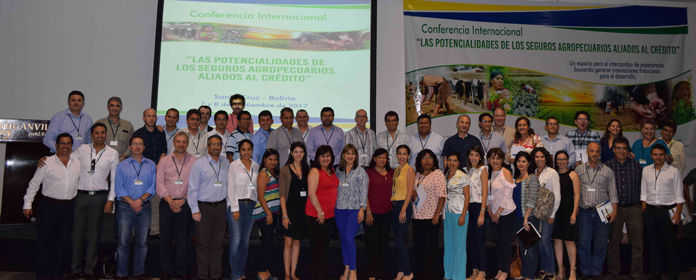 Participantes del congreso coorganizado por el NCID del Instituto Cultura y Sociedad.

FOTO: Cedida
115 experts from Bolivia, Peru, Argentina, Brazil, Mexico, Paraguay and Spain participated in an international conference on agricultural insurance in Bolivia organized by the Navarra Center for International Development (NCID) of the University of Navarra, the PROFIN Foundation in Bolivia and the Latin American Association for the Development of Agricultural Insurance (ALASA).
The event was entitled "The potential for agricultural insurance linked to credit" and brought together 16 speakers from public and private entities in the Bolivian city of Santa Cruz. Among those present were Switzerland's Ambassador to Bolivia, Roger Denzer, who inaugurated the event together with Marcelo Girardi, president of ALASA, and Edwin Vargas, the Executive Director of the PROFIN Foundation.
Speakers and conference participants debated about the potential benefits and possibilities of agricultural insurance for producers. Among them, three NCID members attended, including Alex Armand, Joseph Gomes and Sergio Daga. The latter stated that, "experience gleaned from other countries, such as Brazil, Peru and Mexico, will surely help the public and private sectors to think about alternatives for boosting the agricultural insurance sector in Bolivia and, at the same time, to extend greater economic inclusion for small farmers in the country."
Bolivia: More than 30% of workers are engaged in agriculture
Armand, Gomes and Daga had the opportunity to present research that the NCID of the Institute for Culture and Society is carrying out in Bolivia under the auspices of the project "Understanding Agricultural Insurance in Bolivia," which receives funding from the International Initiative for Impact Evaluation (3ie).
The project proposes a better understanding of the role of agricultural insurance, which could support farmers who face climate risks and encourage investment and consumption. It is worth noting that Bolivia is characterized by the importance of this sector to its economy, with over 30% of its workforce engaged in agriculture.
Contact: Main Library
Campus s/n 31009 Pamplona Spain Tfn: +34 948 425 615 ics@unav.es