Biology and Subjectivity in Contemporary Philosophy and Neuroscience

An innovative educational program helps teens understand and manage their emotions
UpToYou, driven by doctoral researcher at the University, has been launched in a Navarra school and will officially be presented in June at Civican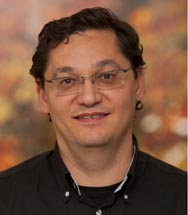 UpToYou aims to help teenagers understand and manage their emotions in a new educational program. The project is part of Joseph Victor Oron's doctoral thesis, which he is completing as part of the Mind-Brain Group of the Institute for Culture and Society at the University of Navarra. It is funded by the Caja Navarra Foundation and will officially be presented on June 22, 2016 at Civican in Pamplona, Spain.
The program involves two important aspects. The first is interdisciplinary theoretical research, which draws on the contributions of neuroscience, philosophy and psychology. To develop it, Jose Victor Oron has worked with scholars from the University of Reading (U.K.) and the Popular Autonomous University of Puebla (Mexico). He spent time during the 2015-2016 academic year at both of these universities.
The second aspect aims to implement this theoretical reflection in an educational intervention. It has been in development since 2014 in the Pious Schools (Piarists) of Tafalla (Navarra) with a group of twelve students. It will likely expand in the near future to other public and private schools in Navarra.
Working with students begins on a Monday with ten minutes of play to differentiate the activity from other classes. It continues with a group meeting for fifty minutes to work on specific issues and propose tools for achieving the objectives, and continues with a 30-minute support group activity. Therein, students pair off into partner groups in which they are meant to share their experiences and mutually support their decisions for personal growth.
In another instance, tutors conduct personal interviews with participants and develop a homework plan— for example, to write a short reflection each night on how the day went and thus get to know themselves a little more. To do this, they use the "stop light" tool— participants write the actions that they always do well in green, things that they sometimes do well and sometimes do poorly in yellow, and things that they do wrong in red.
Positive results: Personal growth and impulse control
According to the research director, positive results have been achieved in the last two years. "Not only have we received positive reports from students, parents and teachers, but we have also done pre and post psychological evaluations showing that students who went through the program, in comparison with their peers who did not participate, showed positive developments in personal growth and statistically significant impulsive behavior improvements".
Oron also notes that "UpToYou students' improvements in how they understand people and their attitudes when facing new challenges" are statistically significant.
Jose Victor Oron notes that adolescence involves three complementary challenges that require a joint approach: a) Maturity in decision-making, implementation and follow up, b) maturity in social relations, both among peer groups and with the adult world, and c) identity clarification, thus acquiring an awareness of one's being and role in and view of the world.
"For teenagers to successfully meet these challenges, they must acquire a level of emotional management that allows them to responsibly assume their own existence and, therefore, have an active role in their life," he explained. UpToYou, as Oron stressed, "teaches teenagers to know themselves, their inner dynamics, and to start a path toward growth that begins with an understanding of their person and their situation".
Presentación del programa UpToYou
When: june 22th, 2016
Where: Civican. Avenida Pío XII, 2, 31008 Pamplona.
Time: 17:30 a 19:00 h.