ECHIC Annual Conference 2015
Thirty experts from eight countries gather at the University to discuss research challenges in the humanities
The ICS hosted the 2015 annual meeting of the European Consortium for Humanities Institutes and Centres (ECHIC)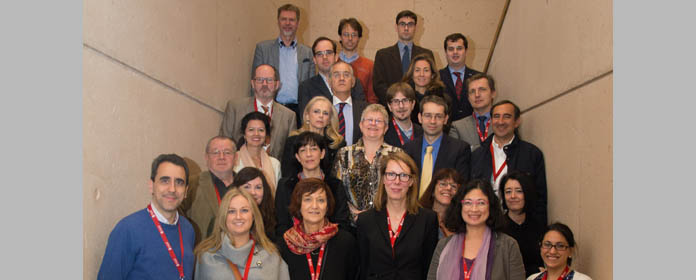 Thirty experts from centers in the United Kingdom, the Netherlands, Portugal, Italy, Poland, Denmark, Ireland and Spain took part in the V Annual Meeting of the European Consortium for Humanities Institutes and Centres (ECHIC). The Institute for Culture and Society hosted the meeting on the 26th and 27th of March, 2015. The event was held at the Museum of the University of Navarra.
Among other topics, the conference addressed issues such as Horizon 2020, civic humanities, public and private funding and the value of the humanities to society.
Pilar Lostao, Vice President of International Relations at the University, and Ana Marta González, ICS's academic coordinator, opened the meeting.
Naomi Segal, from Birbeck College, gave the Susan Manning Memorial Lecture entitled From Literature to Cultural Literacy. The session was moderated by Jaume Aurell, director of the Institute for Business and Humanism and collaborator in ICS's Religion and Civil Society project.
Lejf Moos, Aarhus University professor and coordinator of the European Alliance of Social Sciences and Humanities (EASSH), spoke during the second plenary session. It dealt with Horizon 2020 and the Humanities. Poul Holm, president of ECHIC and professor of Trinity College Dublin, moderated the session.
Private and public funding
The first panel followed and was entitled, "Civic Humanities: An ex-centric way to Understand Humanities," moderated by Luis Adao Fonseca, who works at the Centro de Estudos da População, Economia y Sociedade. Montserrat Herrero spoke on "Humanities and Communities of Interpretation;" Paolo Monti, from the Università Cattolica del Sacro Cuore, presented on "Humanities and Citizenship;" and Marisa Ronan, from Trinity College Dublin, spoke on "Humanities Without Walls."
The afternoon began with a presentation by Tobijn of Graauw, from Utrecht University, and later a workshop was held to share best practices and experiences.
That same day, the conference also hosted a panel on private and public research funding; Alex Hansen, who is Managing Director of ICS, moderated. Patricia Santos Rodríguez of Universidad CEU San Pablo, spoke on "Setting a Common Path for Humanities and Social Sciences Evidences at National and European Levels." Jaime García del Barrio, Director of ICS, spoke on "Building for Humanities Research Centre in Times of (economic) crisis" and Poul Holm spoke on the Humanities World Report, which he co-authored.
Following the closing session and discussion of conclusions, which Poul Holm, Luis Adao Fonseca and Tobijn of Graauwn presented, the documentary The Value of Humanities was shown.
About ECHIC
ECHIC agrupa a los institutos de investigación, facultades y centros de humanidades de toda Europa y persigue un triple objetivo. En primer lugar, se propone actuar como portavoz de sus miembros en el diálogo con ESF, la UE y otras fuentes de financiación y los responsables de las políticas para plasmar la necesidad de la investigación en humanidades; hablar en nombre de las humanidades y desarrollar un lenguaje para posicionar los institutos de Humanidades en las universidades europeas.
Por otro lado, organiza la reunión anual de humanidades en una de las instituciones miembro, involucrando a todos los principales socios, así como a los agentes financiadores y políticos en los niveles nacionales y europeos. Las anteriores ediciones del encuentro fueron en Oporto (Portugal), Nottingham (Reino Unido), Utrecht (Países Bajos) y Dublín (Irlanda).
Asimismo, trata de establecer una red en toda la UE a modo de lobby de las humanidades en Europa; preparar proyectos colaborativos y actividades y establecer un sistema efectivo de trabajo con otras redes internacionales de humanidades, como CHCI.
Contact: Institute for Culture and Society
Main Library , University of Navarra 31009 Pamplona Spain +34 948 425 600 ext. 805615 echic2015@unav.es