Creativity and Cultural Heritage
Musical Practice, Space and Liturgy in the Spanish Cathedrals of the Modern Age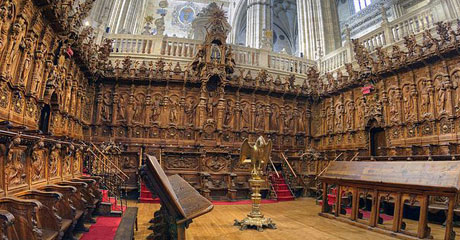 The Choir at the New Salamanca Cathedral. Image: Ángel M. Felicísimo
Despite musicology's progress studying Spanish religious music in recent decades, there remain numerous gaps regarding musical practice in cathedrals, collegiate churches, convents and parishes in the Modern Age. Yet, musicians principally trained and worked at these places, which were also central for production. Hence, most of the written musical repertoire preserved in Spain is religious.
To improve our understanding of this phenomenon, this project examines the complex interrelationship between music, liturgy and religious architecture, which to date has only been addressed separately. One of the most influential currents in musicology in recent years, namely performance practice or Ausführungpraxis, has begun to reclaim the importance of the ritual and spatial context. Only through interdisciplinary research, including musicology, history, art history, liturgy, architecture and music practice, isit possible to properly analyze different interpretive aspects of music in Spanish cathedrals during the modern period. It is especially worth examining the relationship with Ibero-American religious centers and to frame the results in the European context (Italy, France and the Netherlands in particular).
This project is backed by the principal investigator's experience in the field of musicological research applied to musical performance. In addition, it brings together musicologists who are experts in polychorality (an important historical phenomenon that results from the interaction between religious space and the new Baroque style), and is expanded with knowledge from art and liturgy historians sensitive to interrelationships in sacred centers. Finally, it is reinforced with international networks. Thus, the project counts on a highly specialized and interdisciplinary research team.
This project's main challenge therefore consists ingoing beyond disciplinary limits in order to offer a fuller picture of Hispanic Baroque religious music, highlighting the multiple connections between interpretation of music practice, liturgy and religious space. With its results, the project aims not only to reach the academic community, but also society in general, offering the appropriate tools so that interpreters of historical music can better convey our common musical past.


· Carrero Santamaría, Eduardo (Universitat Autònoma de Barcelona)
· Dompnier, Bernard (Université Clermont Auvergne, France)
· O'Regan, Noel (University of Edinburgh, UK)
· Corswarem, Émilie (Université de Liège, Belgium)
· Galí Boadella, Montserrat (Benemérita Universidad Autónoma de Puebla, Mexico)