A research stay that will analyze expressions related to the wish to die when suffering from advanced disease
Alazne Belar, an ICS PhD student, will undertake a research stay in Lausanne (Switzerland) thanks to a grant from the Government of Navarra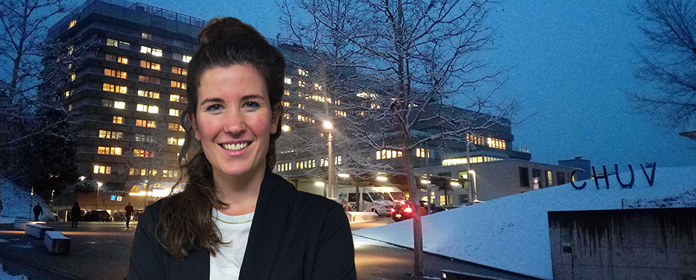 Alazne Belar, en el Hospital en el que está realizando la investigación

FOTO: Natalia Rouzaut
Alazne Belar, a PhD student within the ATLANTES Program of the Institute for Culture and Society (ICS) at the University of Navarra, has begun a research stay at the Vaud University Hospital Center (CHUV) in Lausanne (Switzerland). There, the doctoral student will analyze data on expressions related to the wish to die in patients suffering from advanced disease. Her research stay receives pre-doctoral funding for international mobility from the Government of Navarra.
"Switzerland's cultural, religious, social and legal contexts regarding the end of life are very different from those of Spain," she notes, "so learning about other experiences and points of view will help us better understand the experience of patients who wish to die."
The researcher will share with the CHUV team the study she conducted for her thesis with 200 patients at the University Hospital of Navarra and the San Juan de Dios Hospital in Pamplona. In this way, she believes that she will better understand new ideas and points of view, "increasing the possibility of new hypotheses and questions."
Philip Larkin will serve as her research director. He is a palliative care professor at the University of Lausanne and academic director of the Institute for Education and Research in Care, as well as an expert in qualitative research. In addition, she will collaborate with CHUV professors Gian Domenico Borasio and Ralf Jox, who are both experts in the study of the desire to die.
The desire to die in Spain and Switzerland
According to Belar, perception of the end of life and expressed wishes to die depend on one's sociocultural context and moral understanding of life. "Contrasting how patients with terminal illness in different countries express their desire to die will enrich my doctoral studies, facilitating a deeper understanding of the phenomenon," she notes.
Patients perceive disease, the loss of autonomy, physical symptoms and death it self differently and in accordance with their culture, as well as with their perception of issues such as the dignity of the person, control and dependence. "There are different understandings in each culture and all of them influence the end of life experience and the appearance of the wish to die," she notes.
On the other hand, Belar argues that many cultures' medical paradigm influences how people perceive the process of life. "For many years, death has been a taboo that we have tried to avoid, thus altering a natural vision of the process of life and influencing perceptions concerning the end of life," she concludes.
Contact: Main Library
Campus s/n 31009 Pamplona Spain Tfn: +34 948 425 615 ics@unav.es