Presentation
The University of Navarra School of Sciences seeks to train students to become environmental science professionals through a unique and inclusive range of academic programs with a strong international profile. Thus, the bilingual Degree in Environmental Sciences will be launched in the 2014-2015 academic year.
The Degree in Environmental Sciences consists of 240 ECTS credits, divided into four academic years, each of which is divided into two semesters. The academic load for each semester is 30 ECTS credits, divided among basic, required and elective subjects.
- Basic subjects: 60 ECTS credits
- Required subjects: 141 ECTS credits
- Elective subjects: 21 ECTS credits
- Required internship: 6 ECTS credits
- Master's Thesis Project: 12 ECTS credits
The main objective of the Degree in Environmental Sciences is to provide students with an academic and scientific education that will enable them to:
Accurately study environmental problems
Properly manage natural resources
Suggest sustainable development models
Studying Environmental Sciences at the University of Navarra
The elements that set us apart are the result of a combination of three key aspects in a comprehensive training program that fulfils the profile required by companies: excellence in practical instruction; the complementarity of the scientific and applied study of environmental problems; and the international outlook.
1) Excellence in practical instruction
The University of Navarra is recognized for the comprehensive education it offers students, its quality teaching and personalized attention, research to serve society and training that meets the demands of the professional world. The School of Sciences is also committed to excellence in practical instruction, interdisciplinarity, and familiarity between the teaching staff and students.
See video: Reasons to choose the School of Sciences
2) Scientific (and also applied) study of environmental problems;
In addition to considerations regarding the public interest for the labor market, academic reflection needs to accommodate new features that emerge through studying the interaction between man and the environment. Thus, it seeks to academically address the relational character of human beings in their environment (physical, biological, cultural and social), alongside the wisdom that has been acquired through the study of life (biology) for many more years.
3) International outlook
The Degree in Environmental Sciences at the University of Navarra is bilingual, since more than half of the ECTS credits can be undertaken in English. Therefore, students are required to have level B2 in English (more information can be found in the section Applicant Profile).
Similarly, Environmental Sciences students may undertake the International Environmental Program, a university-accredited qualification offered by the University of Navarra. More information can be found in the section International Dimension.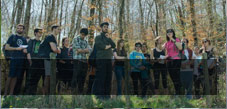 Environment and Landscapes Program
Programa formativo en el que se estudian paisajes nacionales e internacionales in situ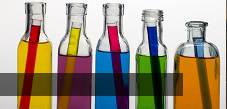 Trabajo Fin de Grado
Reportaje sobre la experiencia de seis alumnos y sus tutores en la realización de los trabajos fin de grado mejor valorados en el último curso.