Introduction
The Degree in Biology consists of 240 ECTS credits, divided into four academic years, each of which is divided into two semesters.
The subject load for each semester is 30 ECTS credits, divided among basic, required and elective subjects:
​

Basic subjects: 60 ECTS credits

Required subjects: 132 ECTS credits

Elective subjects: 36 ECTS credits

Final Year Project: 12 ECTS credits
The fundamental objective of the degree is to train professionals:
Who have the basic knowledge and skills that a biologist must possess, as well as the specific knowledge and skills in the various fields of applications and disciplines that make up biology, and who are capable of applying this knowledge in order to analyze, explain, preserve and transform biological systems.

Who have scientific curiosity and a capacity for working in international contexts, which will allow them to participate in translational research in the various fields of biology.

Who are equipped with a well-rounded humanistic and cultural education, which will help them develop their personal identities and to achieve the attitudes and capabilities needed to provide effective service to society with honor, responsibility, teamwork skills and a spirit of solidarity and service.
Studying Biology at the University of Navarra
Teaching and research supported by experience. The School of Sciences of the University of Navarra was the third school in Spain to implement programs of study in biology, and for more than fifty years it has been devoted to training professionals in the scientific disciplines.
Specialist Diplomas. Elective subjects allow students in the Degree Program in Biology to personalize their degree program and focus more intensely in a given area, which makes their entry into the workforce easier. Thus, students can acquire an intensified focus in some of the most in-demand areas in the field of biology, such as the Diploma in Environmental Biology, the Diploma in Clinical Biology and the Diploma in Marine Biology.

Research Training Program in Biology. Undergraduate students in the Degree Program in Biology are able to participate in a specific English-language training program which, under the supervision of a tutor, allows them to do things such as conduct an experimental research project in biology within the degree program that must be prepared and defended entirely in English in front of a committee.

Interdisciplinary campus. The School of Sciences of the University of Navarra works in close cooperation with the Schools of Medicine and Pharmacy, and other research centers at the University, such as the Center for Applied Medical Research (CIMA), the Integrated Laboratory for Environmental Quality (LICA), the Institute of Physical Sciences, the Institute of Applied Biology (IBA), theCenter for Applied Pharmaceutical Biology (CIFA) and the Scientific and Technological Institute (ICT). This has allowed it to create a university campus specialized in the experimental and health sciences that is unique in the country.

Instruction in English. In addition to seminars, tutorials and instructional and bibliographical resources, throughout the Degree in Biology students are exposed to a variety of subjects taught in English.

Final Year Project. The Final Year Project is compulsory and individual, involving a load of 12 ECTS credits. This project offers students the opportunity to apply and integrate the knowledge they have acquired during their curriculum by completing a research project in a department or laboratory.

Teaching + research. 100% of our faculty members hold PhDs and more than 85% have received recognition for their teaching and research activities from the National Agency for Assessment of Quality and Accreditation (ANECA).

Managing the careers of our graduates. The Careers Office helps students in Biology map out their careers and offers guidance not only in the immediate future, but throughout their careers. High-level, innovative companies cooperate with the School in support of this project.


Master's degrees and graduate programs. The University of Navarra offers students who have completed their undergraduate degree the opportunity to continue their training at the graduate level through one of the official master's degrees that are available to graduates from the Degree Program in Biology.
Diplomas
The School of Sciences offers Biology students three university-accredited qualifications: the Diploma in Clinical Biology, the Diploma in Environmental Biology and the Research Training Program in Biology.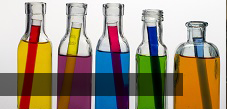 Trabajo Fin de Grado
Reportaje sobre la experiencia de seis alumnos y sus tutores en la realización de los trabajos fin de grado mejor valorados en el último curso.