Quiénes somos
Letter from the Dean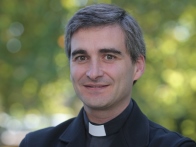 "A very warm welcome to those visiting or joining the School of Ecclesiastical Philosophy at the University of Navarra.
This website will provide you with information on the curriculum and help familiarize you with the work that takes place at the School and, more broadly, at the University of Navarra.
The School of Ecclesiastical Philosophy was established by the Holy See in 1988, making it the newest School at the University of Navarra. Nevertheless, it has drawn on the long and rich tradition of the entire University of Navarra right from the outset. Of course, that enrichment comes first and foremost from the School of Humanities and Social Sciences and the School of Theology. The close contact between our School and these two centers generates a fruitful exchange of knowledge in the areas of teaching and research.
However, equally important is the fact that this ecclesiastical center is located in a university that brings together the full spectrum of experimental and human sciences. This encourages contact and dialogue between all fields of knowledge and opens up profound global horizons for professors and students that enable them to understand the world in which we live.
The University of Navarra thus aims to implement the concept of a universal community of different knowledge sets supported by valuable library resources to encourage the development of varied interdisciplinary research projects. For the ecclesiastical sciences, this possibility is undeniably a valuable asset, at both intellectual and service level. Moreover, we are fortunate to have a high number of international students and students from various regions of Spain at this University, and especially at our School. This also enriches community life and the exchange of experiences and perspectives.
We also welcome you to Pamplona. It does not take long to become aware of the warmth and hospitality of the Navarrese people, and start enjoying this diverse and people-oriented city, whose green spaces and average size provide the calm setting needed to study with a high level of achievement."
Dr. Sergio Sánchez-Migallón
Dean of the School of Ecclesiastical Philosophy