Doctoral degree in Philosophy
Academic Activities
During the first year of PhD the students will deepen the knowledge of a new modern language or the deepening of the language and studied the degree.

The board of the Faculty, with the advice of the Director of the PhD, the PhD student will determine whether you must attend some seminars and specialized courses with a view to research, although the performance of the examinations is not required.

Biweekly occur doctoral seminars in which each doctoral candidate explain to teachers and doctoral students present the work developed in their research, and respond to the issues raised by attendees during his presentation .

The cycle comprises doctoral also , and primarily , a research project under the guidance of a teacher approved by the Faculty for at least three years to write a doctoral dissertation or doctoral thesis .

Ordinary level students obtained the PhD after passed the tests of reading or defense of his doctoral thesis before a panel of five members called for that purpose by the Board of the Faculty. Once the thesis is approved full publication or at least a substantial part of the thesis is required to obtain the title of Doctor.
Contact: Ecclesiastical Studies Building 31009 Pamplona Spain Tel.: (+34) 948 42 56 00 Ext. 802524 Program coordinator:
Prof. D. Sergio Sánchez-Migallón smigallon@unav.es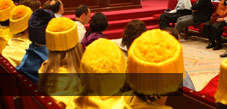 Doctoral School
Find out about the doctoral degree programs at the University of Navarra