The Clínica Universidad de Navarra in Madrid constructs the most advanced Proton Therapy Unit in Europe
The university's hospital reinforces its academic inspiration with this project. It will strengthen lines of research and teaching, and transfer advances to the fields of Oncology, radiobiology, and advanced radiation physics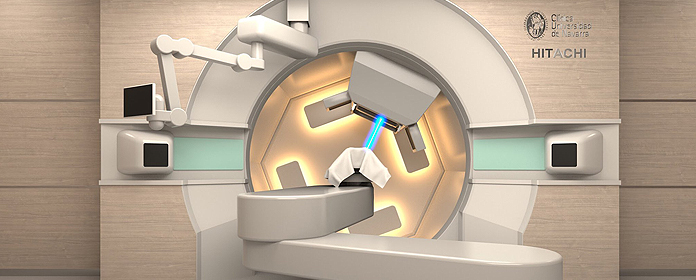 The Clínica Universidad de Navarra's Cancer Center in Madrid (CCUN) is building the most advanced Proton Therapy Unit. It will be in operation by the first quarter of 2020 and a vital asset to the patients in CCUN. The unit includes a Hitachi technology team; the first of its kind in Europe. This technology is an international reference in cancer treatment and is present in 27 academic centers. In the USA, this unit is in Mayo Clinic (in Rochester and Phoenix), St. Jude Children's Research Hospital, and MD Anderson Cancer Center. In Japan, the proton therapy equipment is in the Hokkaido University Hospital.
The general director of the Clínica, DR. José Andrés Gómez Cantero has emphasized the strategic alliance with Hitachi to acquire this proton therapy equipment; fulfilling the Clínica's main objective: to offer the best medical treatments for its patients. "The Clínica's roots as a teaching and research center, along with its integration in the Cancer Center and general hospital brings added value to this new unit. It will allow us to offer personalized medicine by providing effective treatment combinations depending on the tumor's type."
An investment for research
During the presentation, Dr. Umberto Ricardi, director of the European Society of Radiation Oncology (ESTRO) underlined the need for this technology. The first to benefit from this technology is around 25% of patients that cannot undergo conventional radiotherapy. He also predicted, it will be necessary to optimize lines of research in this area. "We know how important the relationship between proton therapy centers and scientific societies dedicated to research and improve the scenario in which patients will receive proton therapy."
Dr. Nobuyuki Osakabe, Technology Director of the Healthcare Business Unit at Hitachi stated, "it is an honor for us to embark on this new partnership with the prestigious Clínica Universidad de Navarra. The important history of the Clínica, its dedication to patient satisfaction, innovation, and research inspire Hitachi to expand new frontiers by providing Spain and Europe with unprecedented cancer therapy."
This new equipment, gained by the Clínica, has involved an investment of 40 million euros (including infrastructure). It establishes a strategic alliance with Hitachi and the other Clínical research centers worldwide that have this technology.
Strategic innovation in Oncology
By incorporating this new technology, Clínica Universidad de Navarra gives a new impetus in the field of Oncology. Dr. Felipe Calvo will lead the Proton Therapy Unit. He will work with the Department of Radiation Oncology, directed by Dr. Rafael Martínez Monge. With this equipment, the Clínica reinforces its university project thanks to the possibilities of enhancing its lines of research, teaching, and transferring knowledge to the field of Oncology, radiobiology, and advanced radiation physics.
The progressive global interest to implement this technology, due to its high efficiency and a proven record, has made it a priority for the Clínica Universidad de Navarra to gain this equipment.
Dr. Carlos Ferrer, president of the Spanish Society of Radiation Oncology (SEOR) highlights the extensive benefits of this technology. It allows consolidation of therapy, "as the radiation for the XXI century and future because of greater accuracy and effectiveness, with a lower risk of induction of secondary tumors, and improving existing techniques in many indications, as recognized by the American Society of Radiation Oncology (ASTRO)."