Jonas Achacoso, reconocido con el Premio Ranaudo 2019 por su publicación Due Process in Church Administration. Canonical Norms and Standards, 2018
Doctor en Derecho Canónico por la Universidad de Navarra, es vicario Judicial Adjunto de la Diócesis de Brooklyn (Nueva York)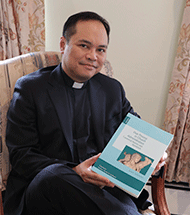 Jonás Achacoso sostiene la publicación Due Process in Church Administration.
FOTO: Cedida
El Tribunal Supremo de la Signatura Apostólica ha reconocido a Jonas Achacoso, con el Premio Mons. Arcangelo Ranaudo por su publicación Due Process in Church Administration. Canonical Norms and Standards, 2018, EUNSA.
Con este premio se busca fomentar el estudio de la justicia administrativa eclesiástica y otros campos del Derecho canónico. Optan al premio quienes hayan publicado un libro o un ensayo sobre Justicia administrativa eclesiástica u otros campos del Derecho canónico, en los diez años anteriores a la asignación.
Jonas Achacoso, doctor en Derecho Canónico por la Universidad de Navarra, desempeña actualmente varios ministerios en la diócesis de Brooklyn, como Delegado de los Movimientos Eclesiales, Vicario Judicial Adjunto, Juez del Tribunal Diocesano y Vicario Parroquial de Reina de los Ángeles (Sunnyside, Nueva York, EE.UU).
Nació en Zamboanga (Filipinas) el 18 de abril de 1973 y se ordenó sacerdote en el año 2000. Cursó el Bachillerato de Teología en la Facultad de Teología de la Universidad de Navarra y posteriormente la licenciatura en Derecho Canónico en el mismo centro académico.
El 27 de junio de 2011 defendió la tesis doctoral, que lleva por título: The Issuance of Administrative Acts. A study on the pertinent Common Norms in Canon Law. Fue dirigida por el profesor Jorge Miras y obtuvo la calificación de sobresaliente cum laude.