Origin, development and purpose

The current School of Education and Psychology has its origins in 1965, when the Institute of Educational Sciences was created. The Educational Sciences Division was created during the 1974-1975 academic year at the School of Humanities and Social Sciences.
In the 1980s, three departments were formed within the division: Basics of Education, History of Education, and Teaching and Guidance. In the 1994-1995 academic year, the Licentiate Degrees in Education and Educational Psychology were launched. This resulted in the creation of two new departments, which encompassed the three previous ones. During the 1996-1997 academic year, these two departments were merged into the Department of Education.
In the 2007-2008 academic year, the Master's Degree in Educational and Psychological Intervention was created. What was then known as the Pedagogical Adaptation Course (CAP), which provided secondary teaching training, became the Master's Degree in Secondary School Teaching, Professional Training and Language Teaching in the 2009-2010 academic year.
The degrees in Early Childhood Education and Primary Teaching, as well as those in Education, were implemented during the 2009-2010 academic year. On December 18, 2013, the new School of Education and Psychology was launched, with two new departments.

A new milestone was reached in September 2014, when the Psychology degrees were launched.
The doctoral program has a long tradition. The first thesis was defended by faculty member José Luis González-Simancas under the supervision of Professor Emilio Redondo. Since then, doctoral theses on the highly diverse topics that make up the field of education, underpinned by the different research projects that are conducted, have been defended.
Over time, some of the School's most notable figures started their work in the Department of Education. They fueled the intellectual life of the University and fostered reflection, wisdom and good educational work throughout the campus. These professors and researchers have been involved in training entire generations of educators who are now working throughout the world.
We strive to set a first-class intellectual and academic benchmark, capable of initiating fruitful dialogue and training the teachers and psychologists of tomorrow.
We aim to provide quality teaching and carry out state-of-the-art research in collaboration with the research areas of the Institute of Culture and Society, the School of Medicine, the Clínica Universidad de Navarra and IESE Business School at the University of Navarra. Internationalization and the promotion of the employability of our students with training and suitable internships also form part of our educational commitment.
students did internships during the 2013-2014 academic year
more than 50 years of training education professionals and applying research results in the classroom
Looking back...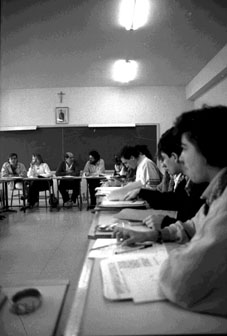 Students in the Educational Sciences, the origins of the current School.