Meet our staff
Letter from the Dean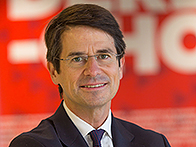 Welcome to the website of the School of Law!
Here you will find information about programs, classes, schedules... But, above, all information about people. A School is shaped out of the efforts of faculty members who devote a good part of their daily work to research and meeting the needs of students, and of students who are aware of the responsibility that they will assume in society. Library, classrooms, computers... these tools are used to meet the challenge we face: offering a high-quality university education. The number of students who have graduated from this School is now in the thousands. They are our best testimonial: alumni who have received a high-quality, professionally demanding education in these classrooms.
At our School you will find the fruit of the never-ending labors of many people who, since 1952, have put this project into motion and developed it. The School of Law has an objective: providing a high-quality education that combines new technologies and guidance in the real world with an appropriate foundation in content and preparation for the new challenges of twenty-first century society. We are convinced that training experts in legal practice is of little use if we do not have students who are eager to learn and understand the reasoning behind the law they apply.
If this is your first time at the School, I'm happy to tell you that we have great expectations for you. What you do during these years will be critical to your profession and to society. That's why, from the first day of class, you are asked to be a professional in the study of law, a person who devotes most of your time and capacity to understanding what is being covered in class and to studying in the library. And, above all, to understanding why you are studying. We have faith that in this way, at the end of these years, you will have acquired the knowledge and skills that will enable you to address the challenges of the world of law, leaving you with the satisfaction of forming part of our School as an alumnus.
And now, onward with your visit to our website! I hope that the information you find here is so helpful and appealing that you want to visit us in person to learn about our project and become involved in it. We look forward to welcoming you.
Best regards,
Jorge Noval
Dean of the School of Law
Learn about the mission, origin, inspiration and values of the University of Navarra. Go to the website