A series of meetings on the right of access to justice begins in New York
The cycle 'Universal Access to Justice', which began with representatives from the UN, will review the situation of the right of access to justice in the international system, Europe, Latin America and Africa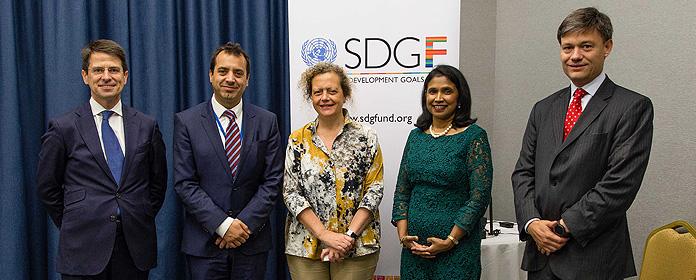 From left to rigth: Jorge Noval, Alejandro Álvarez, Paloma Durán, Rangita de Silva de Alwis, Juan Cianciardo
FOTO: Cedida
During a meeting organized in New York as part of the cycle of meetings on "Universal Access to Justice", Alejandro Álvarez, Director of the Rule of Law Unit of the Executive Office of the UN General Secretary, said "access to justice requires the cooperation of governments, civil society, businesses and the world of NGOs".
The cycle, which is organized by The Sustainable Development Goals Fund (SDG Fund), the General Council of Spanish Lawyers and the University of Navarra, addresses the right of access to justice from four perspectives: international, European, Latin American and African. The sessions will bring together experts from governments, and the private sector.
The first meeting, which was attended by representatives of the UN, law firms and international law specialists, was held in New York during the 'High Level Political Forum on Sustainable Development'. At the same time, Alejandro Álvarez pointed out that "the development of the right of access to justice requires a solid articulation between the reports and the analysis of the situation in different countries as well as the implementation of effective solutions".
Along these lines, Paloma Durán, Development Director of the SDG Fund, recalled that "achieving universal access to justice is key if we want to achieve the 2030 Sustainable Development Agenda. Only by ensuring that each person has access to a justice system that responds to the local needs in each context can we achieve a sustainable world. "
For his part, Jorge Noval, Dean of the Faculty of Law of the University of Navarra, stressed that "the right of access to justice is one of the key axis of the State of Law." That is why, when it is not respected or it is threatened, "the division of powers is severely curtailed and a breach is opened that ultimately affects all human rights and renders law and violence indistinguishable."
Jorge Noval explained that these meetings "are intended to deepen this right through the analysis of its foundations, the study of the challenges it faces at a global level and a close examination of the threats and opportunities that emerge in relation to it in Europe, America and Africa ".
This approach will make it possible to analyze access to justice in different regions and to prepare a final report to address objective 16 (facilitating access to justice for all) of the United Nations 2030 Agenda for Sustainable Development.
In 2014, in order to promote the objectives, set out in this Agenda, the United Nations created the SDG Fund, a mechanism of cooperation to development with an initial contribution from the Government of Spain. The SDG Fund works with different UN agencies to carry out concrete initiatives and projects for sustainable development and advances joint programs against poverty in its many forms, involving all of the development actors: United Nations agencies, local and national governments, including representatives of the academic world, civil organizations as well as the private sector.