Doctoral Degree in Canon Law
Rules for submitting Theses
In terms of the formal requirements governing submission of the doctoral thesis, the following instructions must be followed:
FORMAL REQUIREMENTS FOR SUBMISSION OF THESES (PDF)
Once the thesis has been written, students may, with the prior permission of their supervisor, deliver a copy to the administrative office for final advice at any time during the academic year. The advisor will have a period of 10 days in which to provide students with feedback. Theses deposited after May 20 may be submitted for advice, but will only be read after September, i.e., they will be set aside until the following academic year.
In order to defend their thesis, students must submit eight copies, signed by their supervisor, to the administrative office, formalize the registration and pay the applicable fees. One copy of the thesis will be stamped and returned to the author.
At the same time, doctoral students must also present:
A summary of the thesis content in Spanish and English, not exceeding 250 words, in both paper and digital formats, in accordance with the following instructions: SEE INSTRUCTIONS (PDF). These summaries are intended for inclusion in a file of theses carried out at Spanish universities.

The Agreement Form for inclusion of the thesis in the publication Dissertation Abstracts International. This form, along with the instructions for filling it out (translated into Spanish), can be found at the following link: ABSTRACTS INTERNATIONAL (PDF).
There will be a period of at least 15 days before the thesis is read following delivery of the eight copies to the administrative office. The administrative office will inform doctoral students in writing of the date, time and place of the defense of their thesis.
The defense of doctoral theses will take place in public session before a committee made up of five professors.
Regulations for the publication of doctoral theses
You can download the regulations for publication of doctoral theses and completion of doctoral degrees from the following links:
Contact: Ecclesiastical Studies Building 31009 Pamplona Spain Tel.: (+34) 948 42 56 00 Ext. 802659 Program coordinator:
Prof. D. Joaquín Sedano jsedano@unav.es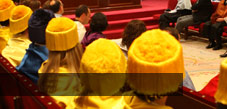 Doctoral School
Find out about the doctoral degree programs at the University of Navarra