Doctoral Degree in Canon Law
Introduction
To gain access to the doctoral cycle, students must have a Licentiate Degree in Canon Law with a high level of achievement, and they should be considered capable of submitting a doctoral thesis, in the opinion of the School.
Undertaking the licentiate degree does not grant automatic access to the doctoral program. In all cases, it is necessary to apply for admission to these study programs.
The doctoral degree requires participation in the subjects organized by the School for this purpose in September and December. Various topics are covered in these subjects; however, there is always a subject on methodology and techniques for canonical research.
Once the subjects focusing on a single topic have been passed, an original research project must be carried out and defended before a committee. Actually obtaining the doctoral degree requires at least the majority of this project to be published (the School facilitates compliance with this requirement through the possibility of publishing, subject to the prior approval of the committee before which the student appears, an excerpt of the doctoral thesis in the Doctoral Notebooks).
Contact: Ecclesiastical Studies Building 31009 Pamplona Spain Tel.: (+34) 948 42 56 00 Ext. 802659 Program coordinator:
Prof. D. Joaquín Sedano jsedano@unav.es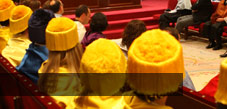 Doctoral School
Find out about the doctoral degree programs at the University of Navarra