Origin, Development and Purpose

The University of Navarra School of Communication was the first Spanish center to offer teaching in Journalism at university level. The initiative was spurred on by San Josemaría Escrivá de Balaguer, who had understood the significance of the work of spreading information since his childhood. Our aim is to educate better professionals who, by doing their work in the pursuit of excellence, help to improve the communication field.
Throughout its 60 years in existence, this School has witnessed many milestones, which have reinforced its approach to and understanding of communication.
Behind every step, achievement and anecdote, there are faculty members, students, alumni, non-teaching staff and professionals. Today they amount to more than 8,500 people.
Learn about the mission, origin, inspiration and values of the University of Navarra. Go to the website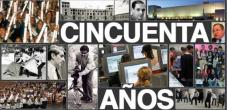 Examine the most important milestones that the School has accomplished in the course of its history.